10 Foolproof Ways of Wearing Pearl Necklaces Without Looking Old
15 Feb

When you consider how historically the existence of pearls has been over time as women's accessories, it's incredible to think that something so elegant and ageless can be regarded as "old-fashioned."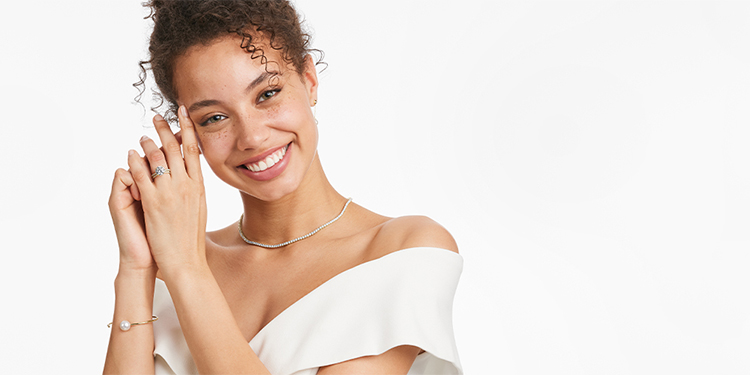 Pearl jewelry is among the several items with significantly interesting history and is exceptionally stylish, refined, and attractive. These terms are only a few evocative terms that spring to mind while analyzing pearls, which have, through time, become legendary gems.
All of these peculiarities highlight how distinctive and special pearls are. They are inherently gorgeous, and when worn properly, they may bring flair, luxury, and elegance to your ensemble. To put it differently, genuine pearl necklaces are a reasonable and fair investment since pearls are the perfect gemstones you need to uplift your appearance.
However, just the manner in which they can be worn right, it's incredibly easy to go wrong while styling them. Therefore, how you wear your pearls determines how they make you look; old-fashioned, chic, or elegant!
In this light, I'll share ten insightful ways to wear your pearl necklace without having them look old, outdated, or unattractively styled.
10 Ways of Styling Your Pearl Necklaces Without Them Looking Old-Fashioned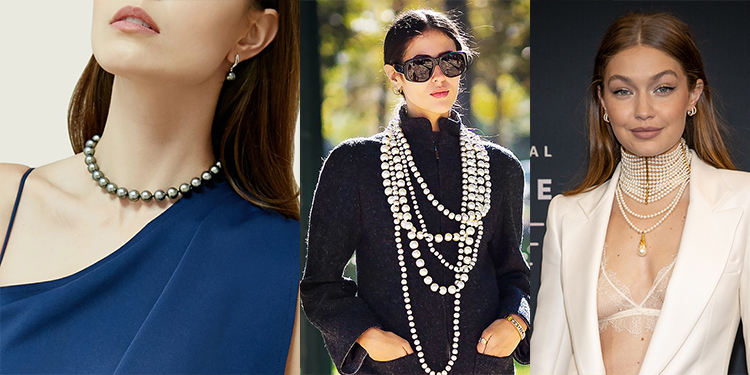 If you have been wondering if there are ways to style your pearl necklaces in a chic, trendy, stylish, and sophisticated manner, here you have it. Here's a list of 10 ways to style your pearls necklace without them appearing rather old-fashioned;
The Right Length Makes All the Difference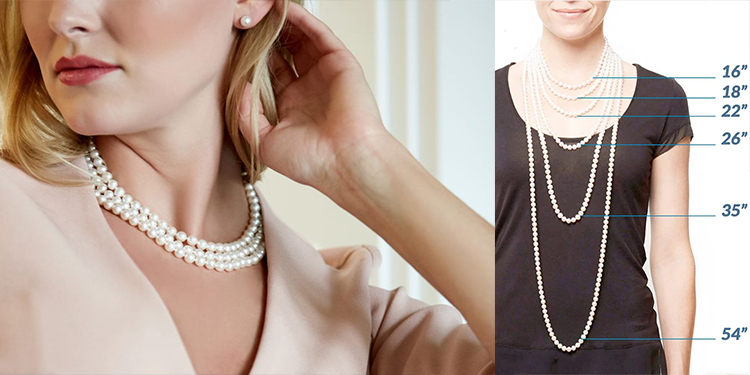 Do you plan to go all out with the sophisticated, chic, and elegant look? It's best to try out pearl necklaces of various lengths. In my opinion, the length of pearl necklaces actually makes a difference and is among the most crucial yet underestimated pieces of advice when styling your pearl.
First and most importantly, you must properly pull off a pearl necklace look in order to avoid coming across as dowdy. So, choose a shorter and choker-length pearl necklace if you want a fancier, more striking appearance.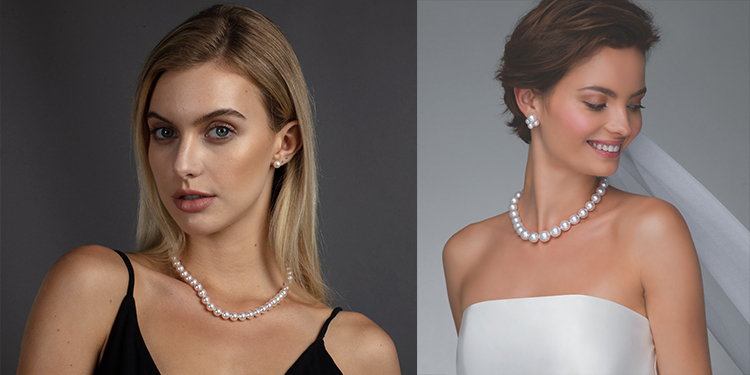 However, stay away from stacked chokers for a more casual appearance because choker pearl necklaces typically give off a more fancy-looking and attention-grabbing vibe.
For a more laid-back appearance, a 16 or 18-inch pearl necklace styled with a casual top is one of your best bets. This necklace gives off an amazing aura with your jeans and top as it casually sits just below or on the throat, giving you a calm and comfortable appearance.
Typically, the longer pearl necklaces give off a more fantastic and fashionable outlook with casual attire, and a layered design significantly improves your appearance and entire impression.
Look Out for the Shapes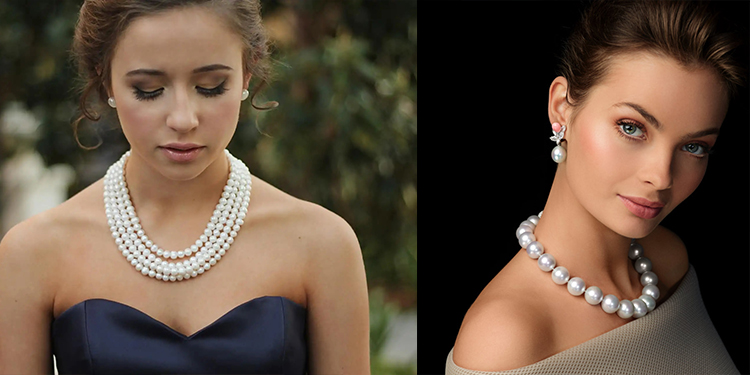 The traditional shape of pearls is round and usually has a lovely, refined appearance. However, if you're looking for an exciting or unique style, you could try out the intriguing baroque pearls, as they have a distinct sense of feel and vibe around them.
You may wear a single huge baroque pearl necklace or a string of several smaller ones with a casual outfit to create a playful but classy effect.
There are even square-shaped pearl necklaces available nowadays rather than the usual round ones for those who desire to wear pearls with more flair and panache!
Other pearls come in unconventional forms like buttons, teardrops, ovals, and more, all of which are quite intriguing and make for fashionable necklaces.
Colors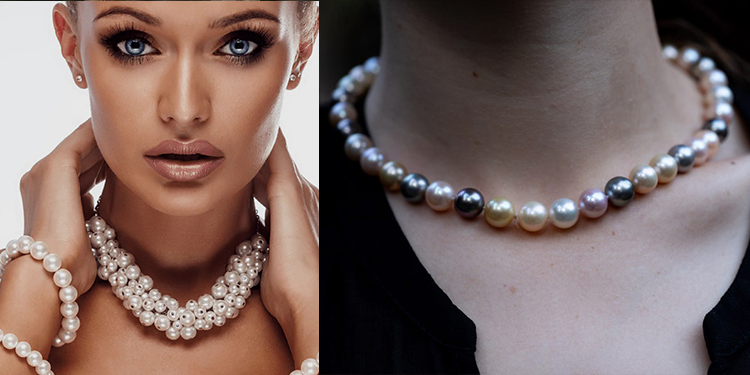 A simple way to effortlessly complement your clothing is to add a colorful string of pearls. Typically, we notice that pearls come in calming and beautiful white or off-white colors. However, there are numerous different colored possibilities that you can opt for when trying to style your pearls.
There are several designs of chocolate necklaces that you can wear, making them perfect for a lavish banquet or wedding. They can give elegance and a fantastic sense of style to your appearance.
Additionally, you might choose the gray pearl necklaces for a lunch or dinner date. It's important to remember that you should never wear pearls with overly saturated hues, such as bright pink, yellow, or green. Instead, use calming, neutral hues like beige, light pink, black, and white.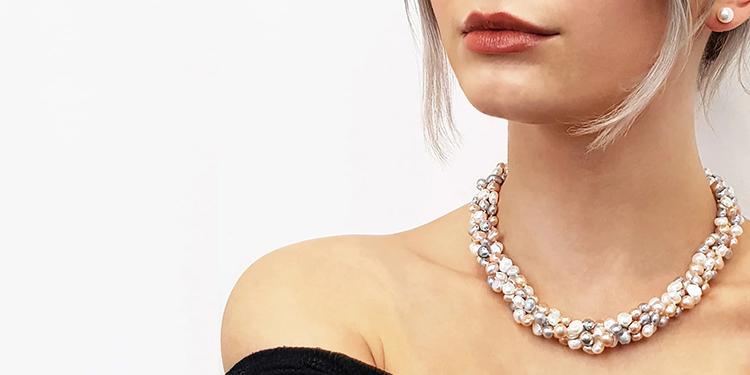 These tones may always highlight the allure of your pearl necklace and give you a composed, classy appearance.
Pay Attention to the Size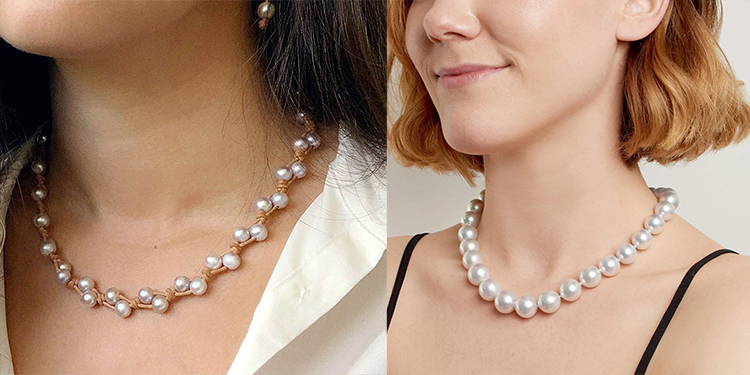 More often than not, the size of the pearls of your necklace particularly determines the final look and impression you get. Furthermore, your pearl necklace size influences how and the occasions you can perfectly style it too.
For instance, the South Sea pearls come distinctively large, ideally suitable for high-end occasions, as they place significant focus on your necklace and the jewelry piece.
However, not everyone can pull off or afford the magnificent statement necklace look with the South Sea pearls. So, we advise opting for pearls in more manageable sizes, usually between 7.00-8.00mm, while you deliberately attempt to achieve equilibrium with your accessories.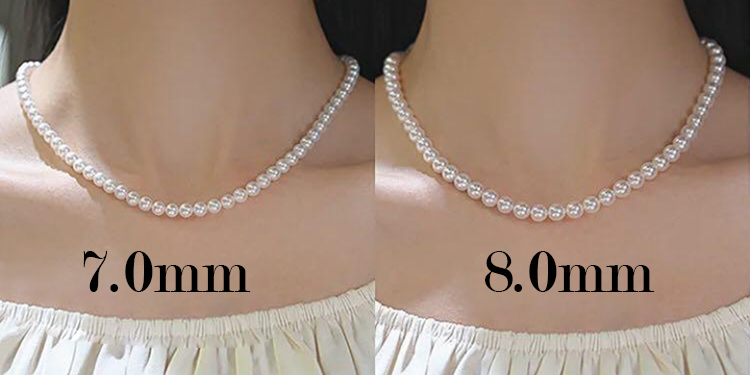 On the other hand, small pearl necklaces are always a good choice. Simply adorable and little they are! Furthermore, they effortlessly complement any style!
Proper Layering Will Blow Your Mind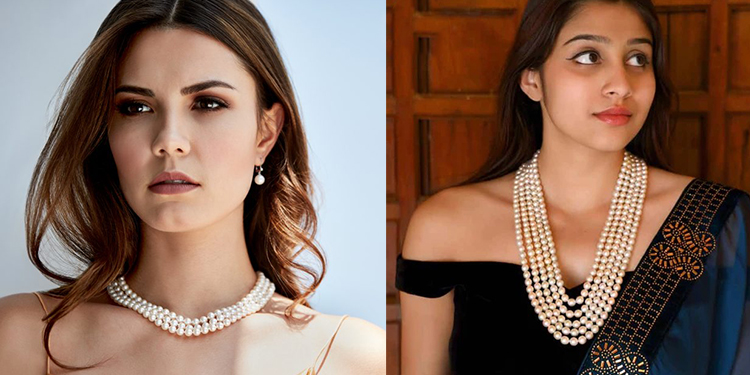 Choose to layer your pearls if you desire a simple and efficient way to accessorize them or if you want to liven up and upgrade your appearance. One of the best aspects of using pearls is that you may stack a few of these necklaces together instead of just wearing one pearl necklace.
Alternatively, you might wear that long pearl necklace while layering it with the pearl shortener. Additionally, you must carefully place the pieces so each stacked strand sits over the plain scoop tank.
Furthermore, when you properly layer your pearl necklaces, you can style them with a blazer to instantly convey that boss-chic vibe you envisioned.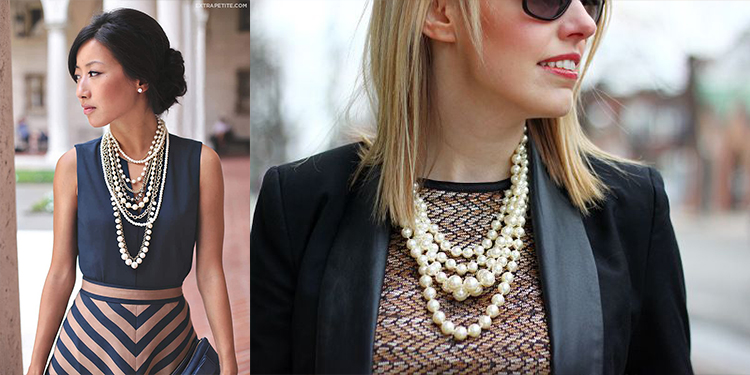 To add some intrigue and class, attempt mismatching the necklaces by wearing your long coral/red pearl necklace with an off-white one. This combo enhances your appearance and makes you appear more eloquent and confident.
Properly Styling One Pearl; Perfection!
With only that one pearl necklace, you can ultimately appear sophisticated and at your finest, especially if the strand of pearls has somewhat larger pearls and you're donning a low-cut or scoop neckline gown.
You may achieve the most glamorous style that captures you in the smoothest and finest ways with nothing more than that stylish black dress and an appropriate string of pearl necklace.
And if this doesn't work for you, you may choose a necklace with a single pearl pendant, such as a single little clamshell pearl, to really make a statement.
You will be astonished at how easy it is to pull off the ideal appearance for various events with your pearl necklaces. This style is unquestionably among the loveliest appearances you can pull off. In summary, all you have to do to look absolutely fantastic is rock your pearl necklace and have your confidence in place.
Style Pearls With Jeans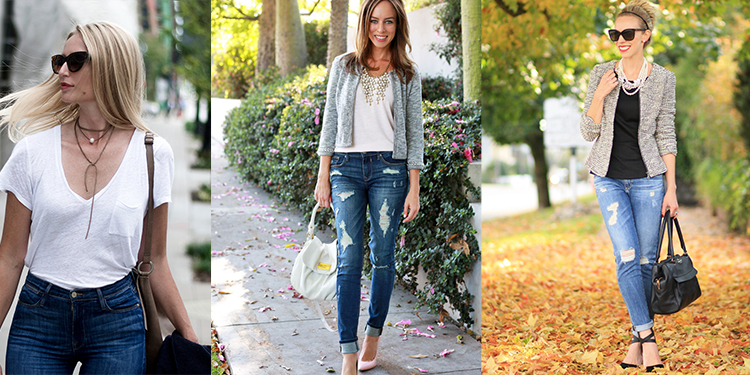 Pearls are a timeless fashion piece. You can style them alone for a simple look or with anything, including dresses and jeans. Furthermore, if you're wearing neutral hues like black and gray, pearl necklaces tend to brighten up your entire appearance.
They look wonderful on their own and with other accessories like watches, earrings, and bracelets. So, you can even style them with statement necklaces!
Tried Out Pearl Chokers Yet?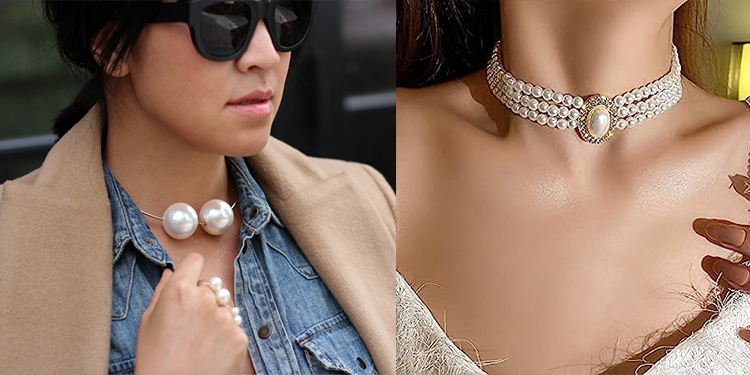 Pearl chokers are a contemporary twist to pearl necklaces. Despite its archaic label, it's one of your closet's most adaptable pieces, as you can pair them with everything from a t-shirt to a dress.
A striking pearl choker necklace looks terrific with various outfits, like v-necks, sweetheart necklines, and strapless and strap-covered styles, as they add balance to these outfits.
Don't Mix Unnecessarily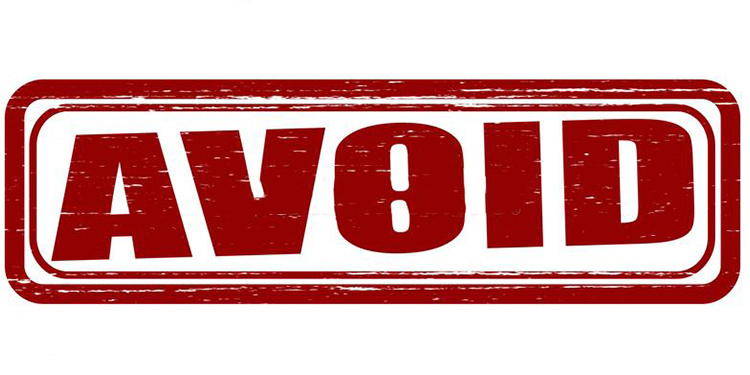 Ultimately, it's better to avoid combining various designs and materials, particularly if they come in shades of white or off-white. This mix comes off as outdated and old-fashioned; more so, they are too similar, and the combination won't precisely match.
For instance, you could try pairing pearls with other materials, such as turquoise, thick gold chains, beads, and shells. Furthermore, leathers and spikes are perfect additions if you are aiming for an edgy look.
Some Sparkles Won't Hurt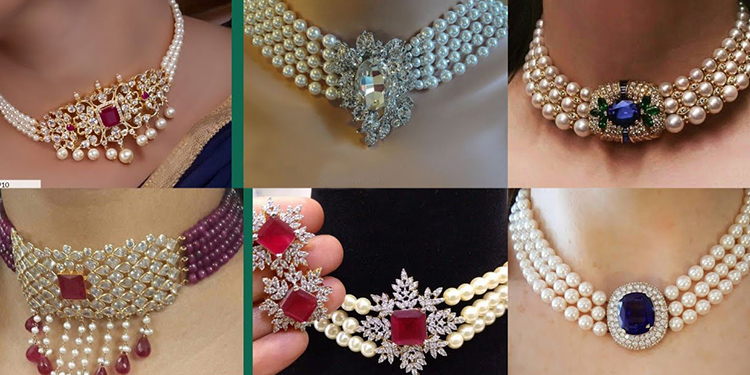 When styling pearl jewelry, opt for pieces with sparkles or other dazzling gemstones. This combo gives your necklace a little more brilliance and makes it appear more like a contemporary pearl than an old-fashioned look.
Wearing Pearl Necklace FAQs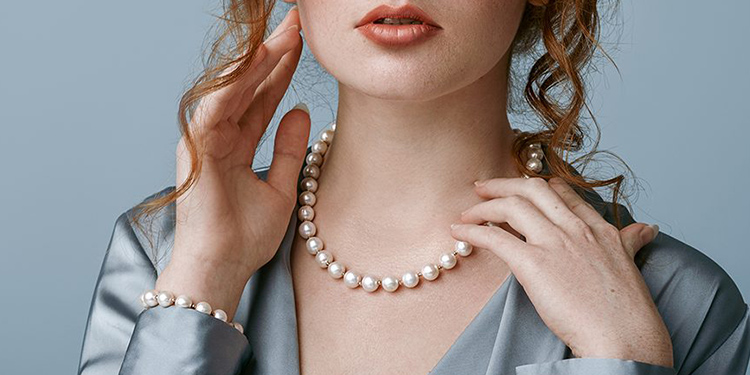 What Does Wearing a Pearl Necklace Mean?
Wearing a pearl necklace could have several meanings, depending on what kind of pearl you are wearing. Generally, wearing a pearl necklace could signify wealth, good luck, love, affection, hope, and peace.
How Much Is a Real Pearl Necklace Worth?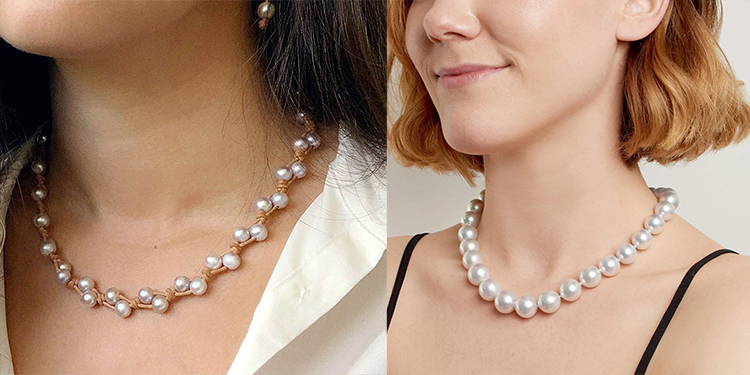 Depending on the quality, the price of a real pearl necklace ranges from $150 to $10,000 or even higher. A traditional Akoya necklace can range in price from $250 to $5,000+, while a more budget-friendly Freshwater necklace costs as little as $150.
Should You Shower With Pearls?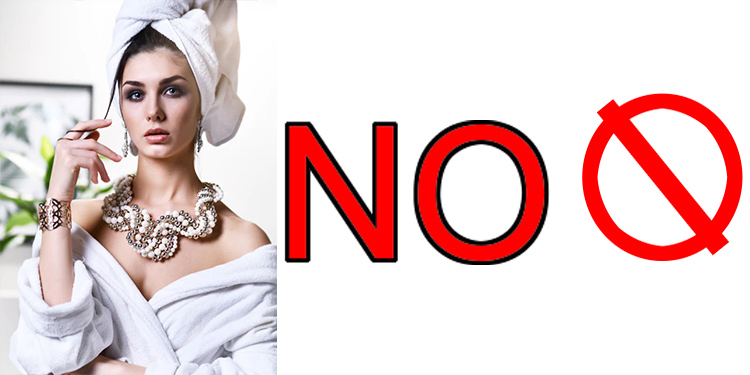 The answer is NO! You should never shower while wearing pearls because you can damage the shiny surface of a pearl due to their exposure to soaps, chemicals, cosmetics, oils, shampoos, and alkaline conditions.
Conclusion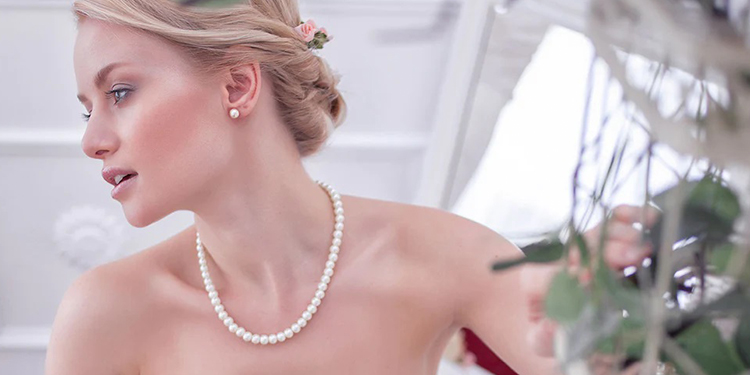 Styling your pearl necklace appropriately shouldn't feel like a chore. With these tips for wearing your pearl necklace, you're sure to only style your pearl necklace to give off a chic, classy, elegant, or whatever sophisticated look you have in mind.