10 Stunning Bridesmaid Earrings for Your Bridal Party
10 Nov

Calling all brides-to-be! You're so close to your wedding day, and you know that every last detail counts in creating an unforgettable day.
What better way to show some love than a beautiful pair of earrings for each of your bridesmaids?

As a fashion stylist, I understand the importance of great accessories for your bridal party – which is why I have curated this guide to 10 seriously gorgeous bridesmaid earrings that'll bring a little extra wow factor to your big day.
Whether it's timeless elegance or modern trend-led looks you're aiming for, prepare to be inspired as we take a deep dive into the world of luxe earrings for your gang.
Let's make sure each one shines like the stars they are.
Choosing bridesmaid earrings requires taking into account a number of key factors.
The goal is to find the best way to strike a balance between considered attention to the tastes of each bridesmaid and paying attention to the overall look of the wedding.
These are some of the points to be borne in mind:
What To Consider When Choosing Bridesmaid Earrings?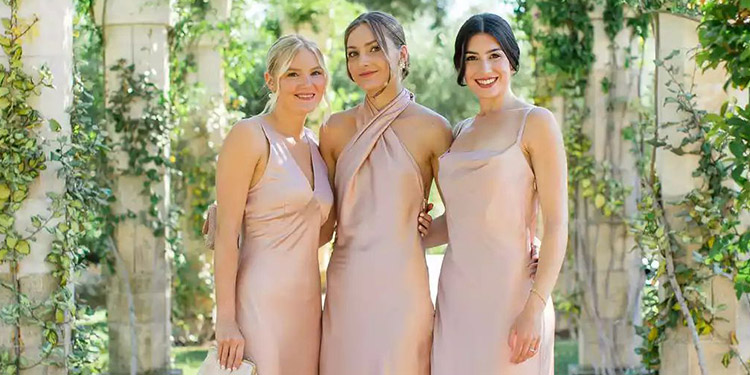 There are a lot of variables to consider when evaluating bridesmaid earring sets. Here are just a few factors to keep in mind:
Wedding Theme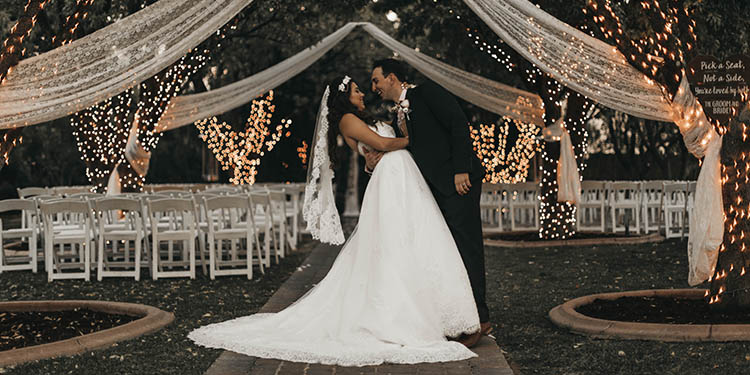 Think about the look and feel you want for your wedding. Is your vibe classic and traditional? Or would you classify it more as boho or modern?
The earrings you choose should be cohesive with the look and feel of the day.
Neckline and Hairstyle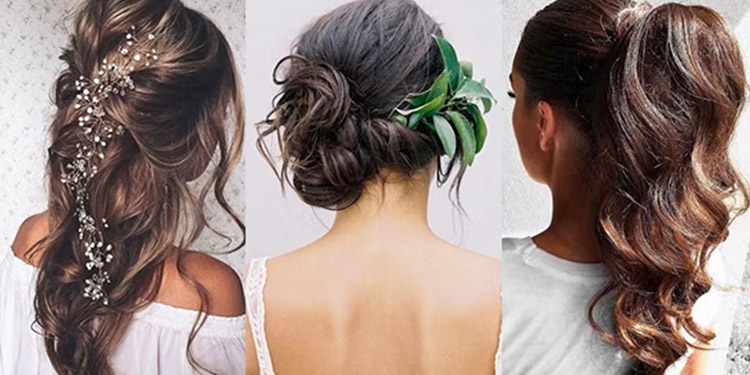 The neckline of the bridesmaids' dress and their choice of hairstyle is something you must consider.
Statement earrings are a great choice for dresses with a strapless or sweetheart neckline.
Opt for a chandelier or drop earrings that will frame the face beautifully and add a touch of glamour.
For dresses with a high neck or halter neckline, on the other hand, it's best to choose more delicate, understated earrings (such as studs or small hoops) to avoid overwhelming the neckline.
The bridesmaids' chosen hairstyles also affect the choice of earrings.
If they're wearing an updo (or have short hair), statement earrings can take center stage and add some drama.
Or, if they have long flowing locks (or an intricate hairstyle), go for smaller earrings/studs that provide a subtle, elegant accent.
Think About the Color and Metal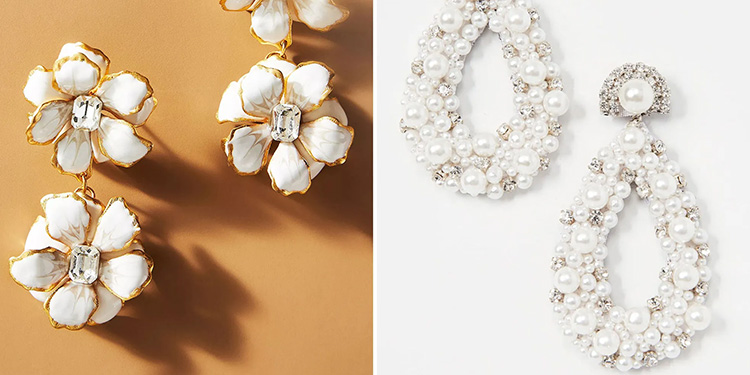 Take into consideration the color palette of the wedding, specifically the colors of the bridesmaid's dresses.
You'll want to choose earrings that either are an exact match in color or the same color family.
Also, consider the metal color of the earrings. If the dresses have silver accents, choose silver-tone earrings.
Consider Comfort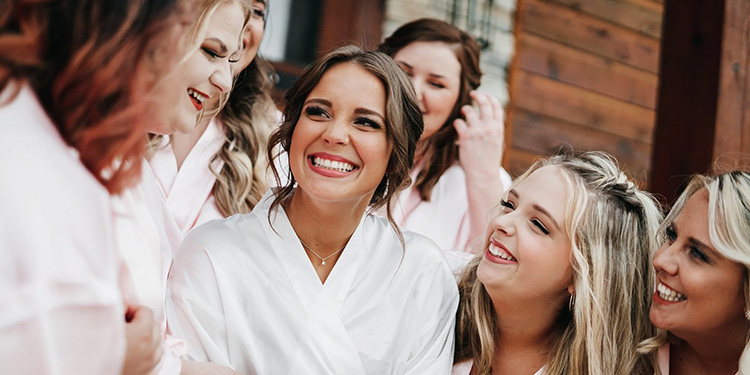 Opt for earrings that not only look good but also feel good to wear.
Your bridesmaids will be wearing these earrings all day long, so it is a good idea to choose something lightweight or at least with a secure closure.
Let Bridesmaids' Personal Styles Shine—As Long as It's Coordinated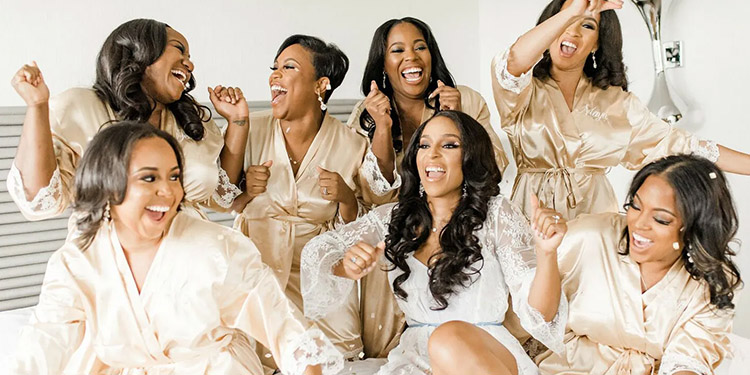 While achieving a cohesive look is important, at the end of the day, you want each bridesmaid to feel pretty and confident.
So use earrings as a place for your pals to show off their personality: pick a range of earring styles in keeping with the look, and allow them to choose a pair they love.
Please take all of these factors into careful consideration to choose the perfect earrings for your bridesmaids that will not only enhance their overall style and look but also keep your wedding style and theme intact.
10 Best Bridesmaid Earrings to Choose From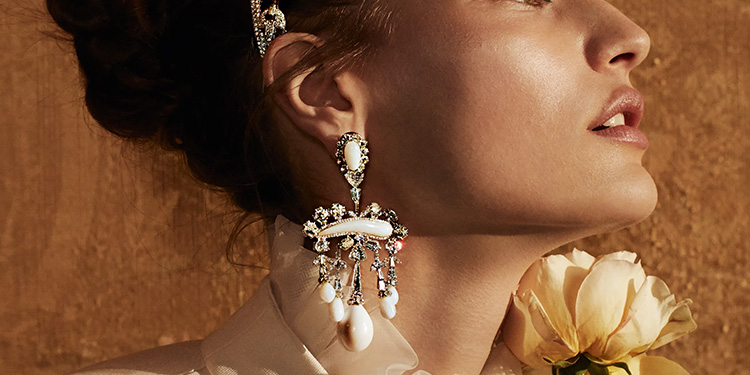 Are you trying to find a great pair of bridesmaid earrings for your girls to wear on your special day?
Look no further. Here are ten gorgeous options that will make your bridal party really shine:
White Victoria 10.0-11.0mm White South Sea Round Pearl Stud Earrings in 18K Gold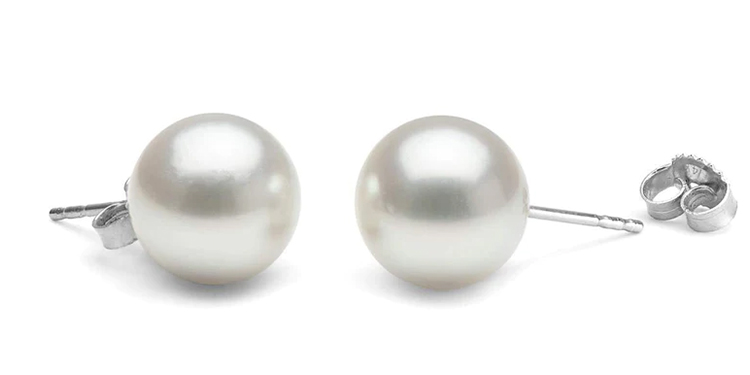 Get an elegant and timeless style with the 10.0-11.0mm White South Sea Round Pearl Stud Earrings in 18K Gold, the best choice for bridesmaid earrings.
These AAAA-quality South Sea pearls create a stunning pair of earrings.
The round shape makes them big enough to be eye-catching but not so large that they overwhelm your overall look.
With very thick nacre, these are durable pearls that will become heirlooms for future generations of bridesmaids.
The white color and very high luster mean they'll add a radiant glow to your face.
Pair these beautiful earrings with classic chiffon or satin bridesmaid dresses in soft pastel shades like blush pink or light lavender — it doesn't matter which one you choose because these versatile pearls go well with any color.
Bloomingdale's 14K Yellow Gold Linear Threader Earrings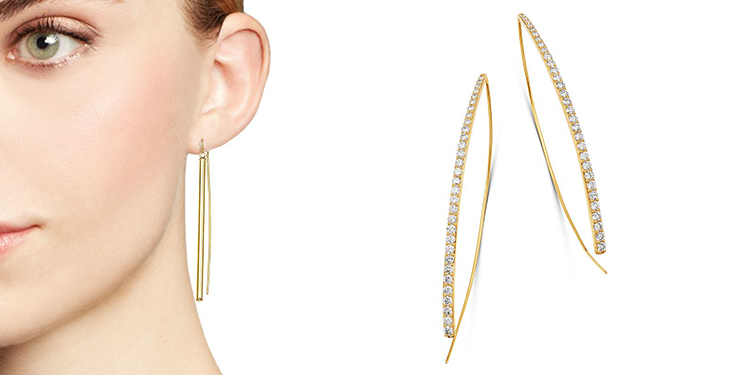 Looking to add a touch of modern elegance to your bridesmaids' ensemble? Look no further than Bloomingdale's 14K Yellow Gold Linear Threader Earrings.
Perfect for the minimalist bride seeking a sleek, contemporary look.
These earrings are designed with a two-inch length that creates a powerful visual impact, bringing movement and drama to any ensemble.
The earrings' delicate French wire closure lends an elegant touch, while their 14K yellow gold construction imbues them with warmth and luxury.
Partner them with a chic, unfussy bridesmaid dress in a solid hue like black or navy.
Think clean lines and minimalistic detail that allow these earrings to stand out.
Accompanying pieces include metallic gold sandals with heels – strappy if you're so inclined – plus a sleek clutch bag in the same gold tone.
As well as looking elegant individually, every element will work together seamlessly.
Hatton Labs Cubic Zirconia Stud Earrings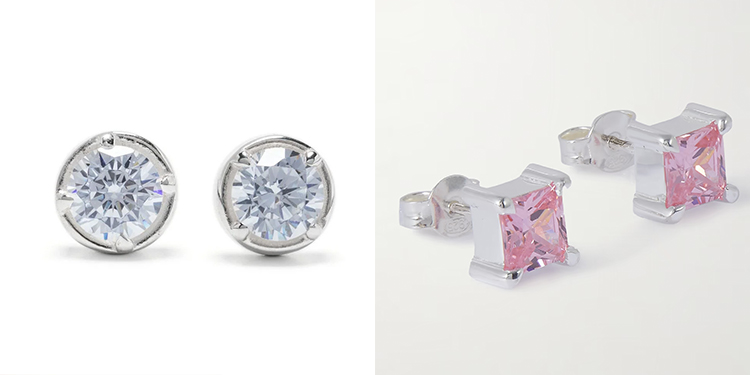 The perfect choice for a bridesmaid earring, Tigerlily has come up trumps with their statement Hatton Labs Cubic Zirconia Stud Earrings.
Versatile and adding a touch of sparkle to any outfit - this is the kind of earring you would happily wear again after the big day.
These small stud earrings are made of 925 sterling silver and have a prong-set cubic zirconia, which gives them an added touch of sparkle and elegance.
Wear them with a chic modern bridesmaid dress in tones such as blush or silver for maximum impact; think clean lines and sharp tailoring rather than ruffles or frills.
Pair with matching sandals or nude pumps to elongate your legs, then add a clutch bag in matching shades.
David Yurman DY Elements Diamond Pavé & Mother of Pearl Drop Earrings in 18K Gold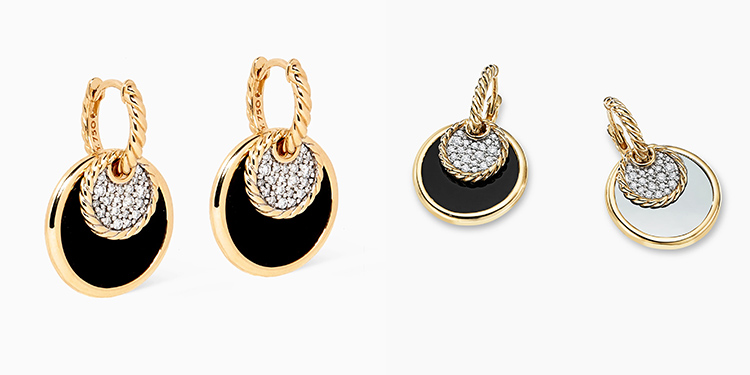 Elevate your bridal party's style with the sleek and modern David Yurman DY Elements Diamond Pavé & Mother of Pearl Drop Earrings in 18K Gold!
Combining mother-of-pearl and diamonds creates an enchanting and opulent style.
These earrings feature 0.22 ct t.w. of glistening diamonds for glamorous elegance. Measuring 0.88 ''L, they are secure with a post-back closure to ensure comfortable wearing all day or night long!
Style-savvy bridesmaids will appreciate how effortlessly these timeless earrings work into their everyday wardrobes after the big occasion.
For an of-the-moment feel, consider pairing these beauties with a minimalist bridesmaid dress in soft gray or ivory—the neutral hue speaks volumes—featuring a tailored silhouette or ladylike slipdress that won't compete too much with the delicate vibe of these earrings.
All eyes should be on those lobes! Don't forget to polish off everyone's futuristic looks by way of gleaming heels (in metallic) and petite clutch (also done up in gold).
White Victoria 9.0-10.0mm White Freshwater Pearl Flicker Dangle Earrings in Sterling Silver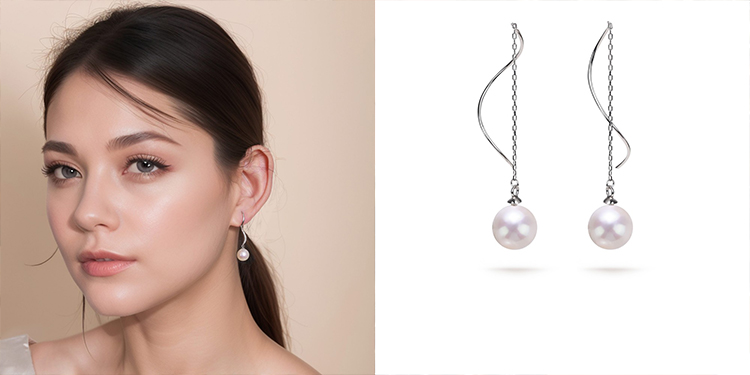 For bridesmaid earrings that will truly stand out, consider the 9.0-10.0mm White Freshwater Pearl Flicker Dangle Earrings in Sterling Silver.
These earrings are crafted using AAAA-quality freshwater pearls and add a touch of movement to any look.
These dangle earrings have a round shape and larger size, so they really catch the light: think high luster!
The white color is versatile enough to work with just about anything, while the very thick nacre ensures durability.
Pair these earrings with an elegant bridesmaid dress in navy blue or charcoal grey for a sophisticated look on your big day; halter or one-shoulder necklines set off their dangle best.
Add silver pumps and a sleek silver clutch for extra shine and polish overall.
Adina Eden Dangling Cz Baroque Pearl Stud Earrings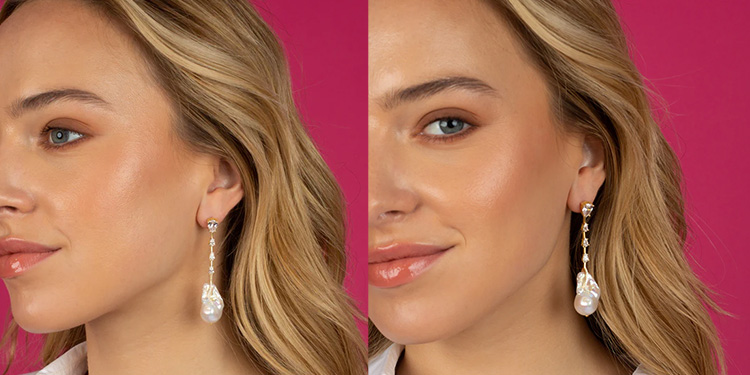 For bridesmaid earrings, you can't go wrong with Adina Eden Dangling Cz Baroque Pearl Stud Earrings.
Crafted from gold-plated sterling silver, these dangle earrings showcase a clear cubic zirconia accent for subtle sparkle, as well as an enchanting baroque pearl charm.
A delicate balance of old-world elegance and contemporary cool is achieved by pairing CZ stones with this stunning pearl pendant.
A post-back design ensures a safe fit, letting bridesmaids dance the night away in style.
Measuring approximately 6 cm long, they make an elegant statement without overpowering an outfit – so perfect for those wearing full-length chiffon gowns in soft shades such as dusty blue or blush pink.
Think off-the-shoulder necklines (to really show them off) or halterneck styles that create a frame for each earring.
Nude pumps will complete the look, while a clutch bag with rhinestone or crystal detail brings everything together nicely.
Tiffany&Co HardWear Ball Hook Earrings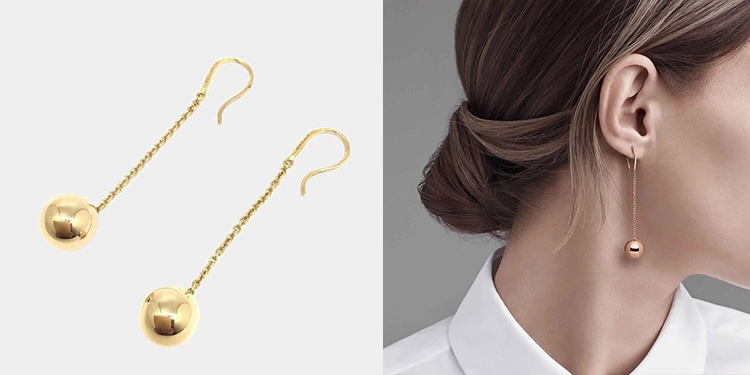 As the ultimate symbol of cutting-edge refinement, Tiffany & Co's HardWear Ball Hook Earrings would make an exquisite choice for bridesmaid earrings.
In their minimal modern design, they perfectly encapsulate the essence of women in New York.
These gold drop earrings – made from 18k gold – have a diameter of 10mm to add just enough sophisticated sparkle without being overbearing.
And, thanks to their easy-to-wear nature and simple appearance, they can work with numerous outfits.
For a contemporary bridesmaid style that oozes chicness, team these little beauties with a sleek, tailored, neutral bridesmaid dress such as navy blue or black.
Add some strappy heels with metallic detailing and a matching mini bag to complete this look. Keep your accessories minimal if you want the focus to be on these babies!
MACY'S Cultured Freshwater Pearl (3-1/2-4mm) Hoop Earrings in 14k Gold-Plated Sterling Silver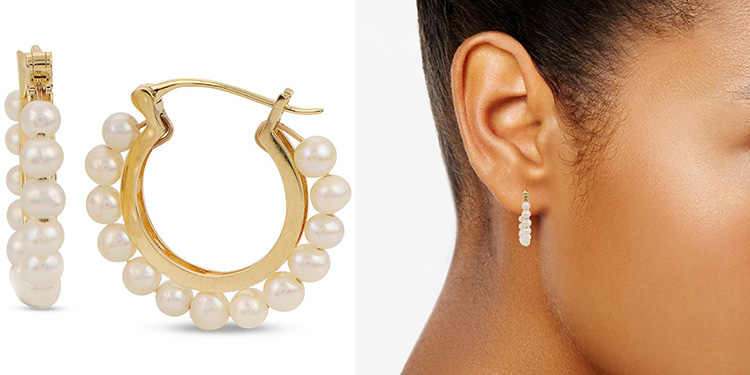 Looking to up the style quotient of your bridesmaids? Check out Macy's Cultured Freshwater Pearl Hoop Earrings in 14k Gold-Plated Sterling Silver.
These earrings are simply amazing, adding a touch of sophistication and glamour to any ensemble.
These hoop earrings shimmer with cultured freshwater pearls ranging from 3-1/2mm–4mm; they're set in - you guessed it - 14K gold-plated sterling silver.
The delicate pearls create an elegant contrast against the luxe gold finish. Approximate drop: 3/4".
Team them with a romantic flowing dress for a soft and feminine look – think dusty rose or light blue.
Try gold heels on top and a clutch with subtle golden accents at play.
Opt for an "undone" updo or side-swept hairstyle to showcase these stunning earrings.
Moon & Meadow 14K Yellow Gold Cultured Freshwater Pearl Chain Drop Earrings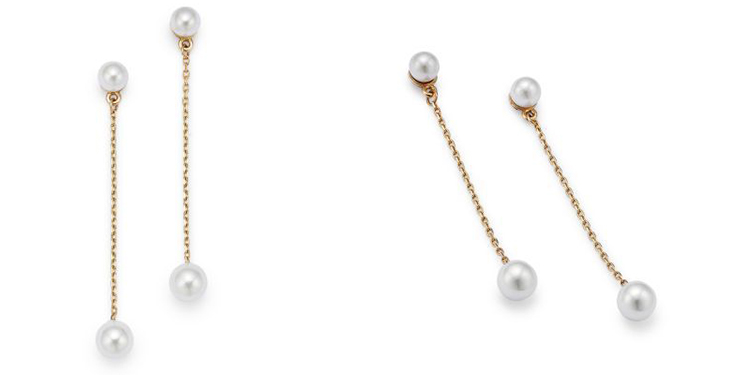 Elevate your bridesmaid outfit with a touch of stylish imagination from Moon & Meadow 14K Yellow Gold Cultured Freshwater Pearl Chain Drop Earrings.
Get the ultimate elegance boost with this sultry chain drop earring design featuring cultured freshwater pearls.
The 14K yellow gold setting plays off of the natural beauty of these pearls for a jewelry piece that is both luxurious and bold at one time.
These earrings are approximately 1.25″ in length, making them daring without being too overpowering.
Think about styling these pearl drop earrings alongside chiffon or lace bridesmaid dresses in soft pastel tones like dusty rose or mint green.
Sweetheart necklines or off-the-shoulder styles will work well alongside such delicate designs.
Match everything up by finishing with heeled sandals and a gold-tone mini bag if you've gone for some serious bling elsewhere on your outfit - this will really help to tie everything together!
Tiffany&Co Twist Knot Earrings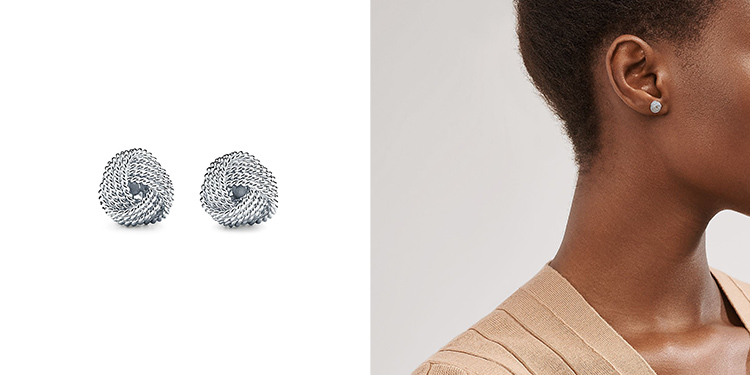 Looking for a dreamy pair of bridesmaid earrings? You'll adore the Tiffany&Co Twist Knot Earrings.
Every inch is designed with love, and these stunning 925 sterling silver pieces showcase a polished knot motif to represent unity and everlasting love.
Though small in size, stud earrings pack quite the style punch – and that's why they work whatever your destination.
Plus, their simple aesthetic ensures they're always in fashion.
Timeless and full of charm, this staple can be worn again and again.
Why not match your jewelry to your outfit? These classic hand-picked beauties are perfect for those wearing neutral or metallic colors such as dove grey or navy blue.
Style tip: opt for something uncomplicated when it comes to dressing choice - we suggest clean lines coupled with minimal embellishment so you don't detract from these oh-so-fabulous jewels!
Bottom Line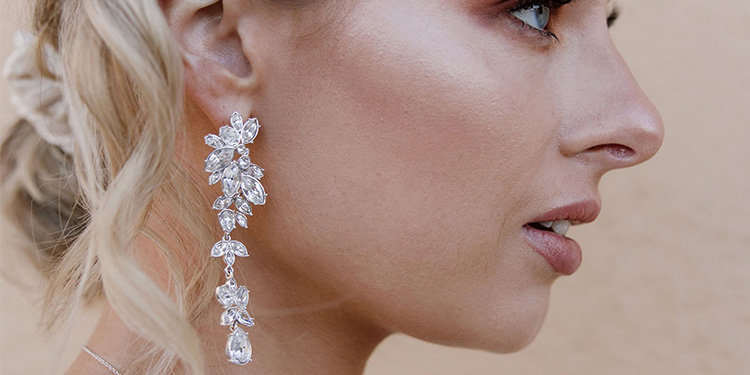 When it comes to the ultimate bridal party, you know it's all in the details and finding "the one." The bridesmaid earrings, that is.
Whether you're drawn to the luxurious appeal of diamond South Sea Pearl stud earrings or the sweet teardrop pearl, there's a style that will truly dazzle your maids and up the glam for your entire day.
Factors like the wedding theme, the style of the dress neckline, and your maids' taste should play into your earring selection.
Having your girls be beautiful and in sync makes for a great visual aesthetic.
As you embark on picking the perfect style, let the exquisite earrings serve as the crowning touch to pull it all together on your special day.
Create lasting memories with any of these breathtaking picks that will be appreciated long after the night ends!