Fall Wedding Attire Guide: Stylish Outfit Ideas for Guests
11 Nov

Do you have an upcoming fall wedding but no idea what to wear? Well, here I am at your service.
Fall weddings are such a great chance to show off and dress up to the mark, wear your favorite foolish clothes, and accept some stylish outfits that define the cozy atmosphere surrounding this season.
With so many fashionable choices that will have you looking chic and leaving you ready to dance all night long feeling confident.
Well, as a stylist myself, I surely do understand how imperative it is to get through the perfect outfit for the specific event.
Be that you're attending a farm wedding in full/whole or a fancy-dancy wedding in an empty city, I've got you to lead and help out.
This ultimate fall wedding attire guide will give you the most exquisite and amazing outfit ideas that will leave you looking like that fashionably fancy guest you were born to be.
Black-Tie Fall Wedding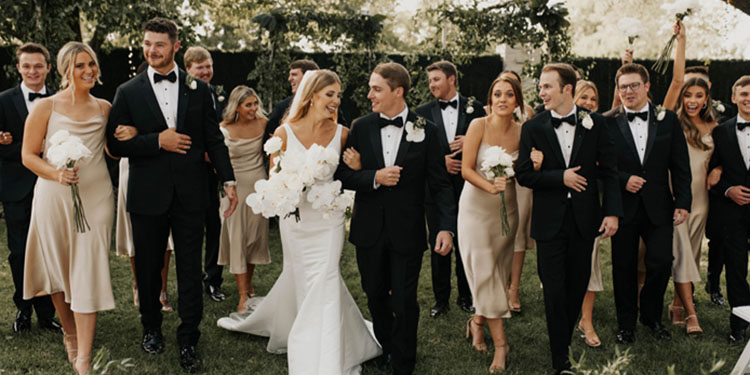 Fall weddings are a great excuse to get dressed to the nines, and nothing is more sophisticated and elegant than a black-tie affair.
Dark, rich colors not only look luxurious, but they go with the seasonal aesthetic like a pumpkin-flavored latte at a cozy café.
Consider an emerald green, ruby red, or sapphire blue jewel-tone look to own the night.
When it comes to the actual outfit, reach for either a formal gown or a long dress to ensure you look the part.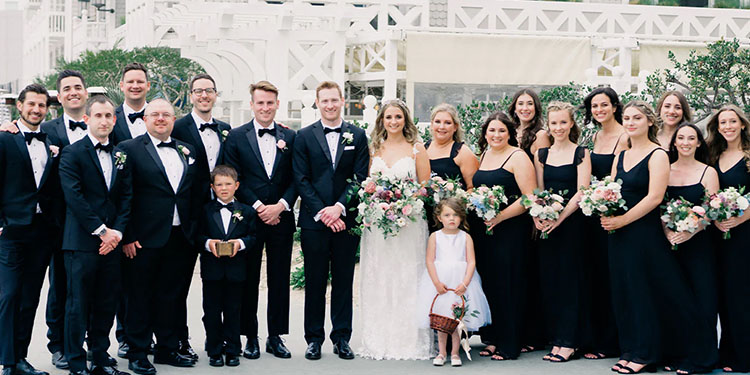 Leaning into sumptuous fabrics like velvet or silk satin will give you the extra wow factor, or you can opt for a glammed-up full-length jumpsuit paired with a well-tailored blazer for a fresh approach to formal evening wear.
Accessorizing is key for a black-tie occasion, so don't be shy.
You've been styling your wedding outfits with gold jewelry all summer, so now is the perfect time to incorporate some silvery sparkle.
Chandelier earrings would be perfect, as would a statement necklace or layered necklaces, if appropriate.
Carry a clutch in a complementary color and slip on your highest (but most comfortable) heels to ensure you make a stunning entrance.
For a truly breathtaking look for a black-tie fall wedding, consider a lush emerald green velvet gown.
Choose one with an elegant off-the-shoulder neckline and sophisticated ruched detailing.
Dress it up with silver stiletto heels, then slip on a stunning pair of pearl drop earrings.
Carry a sparkling black clutch as a juxtaposition that's full of style, and make sure your makeup is as on point as your outfit.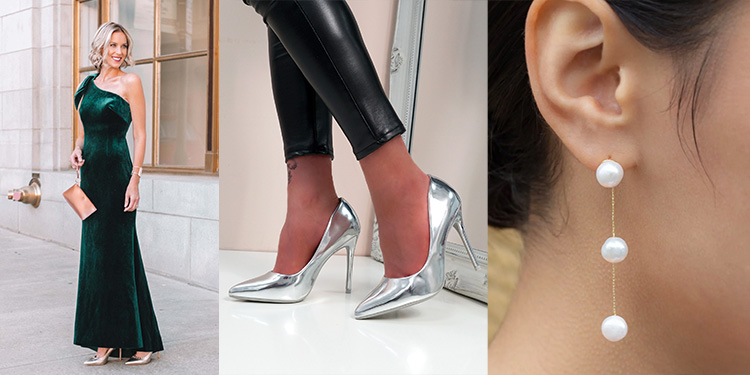 Semi-Formal Fall Wedding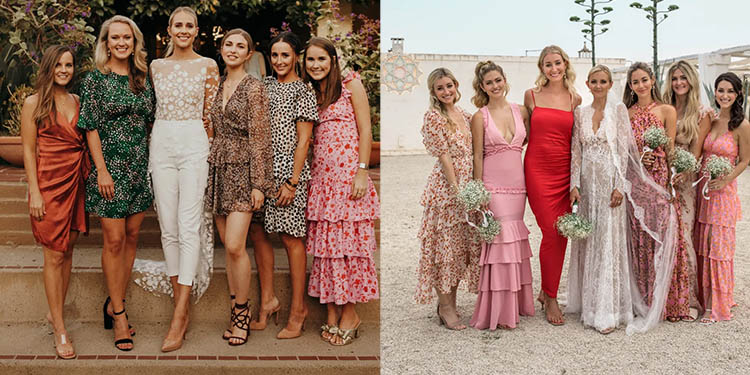 When attending a semi-formal fall wedding, you'll want to choose an outfit that is elegant and sophisticated yet not too dressy.
To nail that balance between casual and formal, fall weddings call for rich colors such as deep burgundy, emerald green, navy blue, and shades of plum.
Accompanied by cooler temperatures, these hues beautifully suit the season ahead.
The dress code for a semi-formal fall wedding is cocktail attire or chic separates.
A knee-length or midi dress in a luxe fabric like velvet or satin is perfect for a fall wedding of this dress code.
Have a little fun with the covered-up look by pairing the dress with a fun pair of pumps or ankle boots that peek out.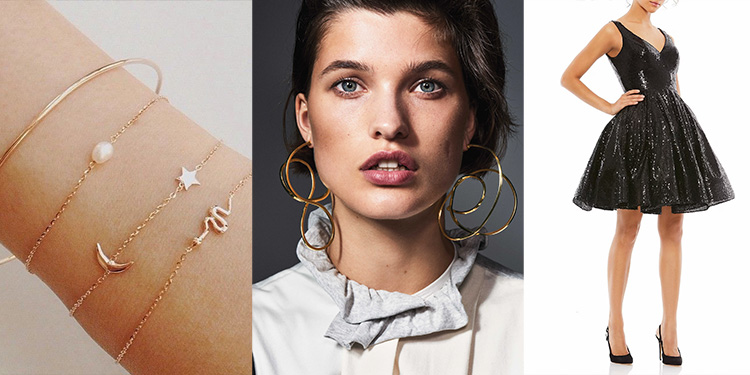 Jewelry should be kept classy and simple. For example, delicate bracelets and statement earrings or a simple necklace will prime the dress to be worn.
When considering what to wear to a semi-formal fall wedding, one option is a fit-and-flare cocktail dress in a deep green lace or navy blue with 3/4 sleeves.
High necklines and long hems are still on point in the realm of fall wedding dresses, and adding lace or knit to the ensemble primes the dress for the party feel.
Rustic Barn Wedding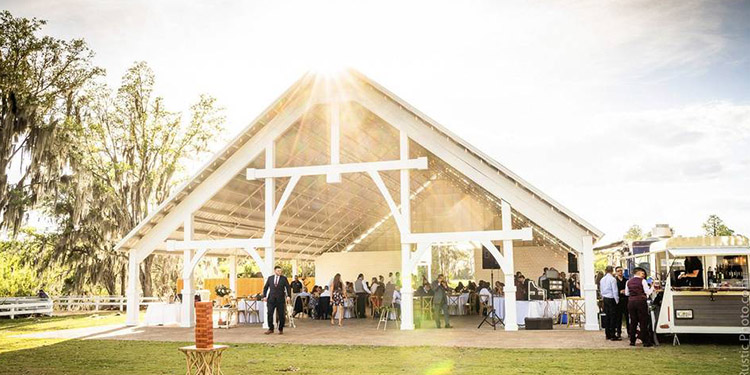 Warm earthy tones in natural lush textures make complete sense for a rustic barn wedding.
We're thinking mustard yellow, deep burgundy, rich brown, and olive greens. Think linen, thing tweed, or even velvet for an ultra-elegant touch.
But what's a perfect outfit? A long-sleeved midi dress that is covered in an autumnal floral print.
Look for those with an interesting print that has lots of lace, embroidery, or others made perfectly from fabric with delicate details.
Pair the floral dress with ankle boots or a pair of heeled mules. It's all about rustic with a little bit of glam for a barn.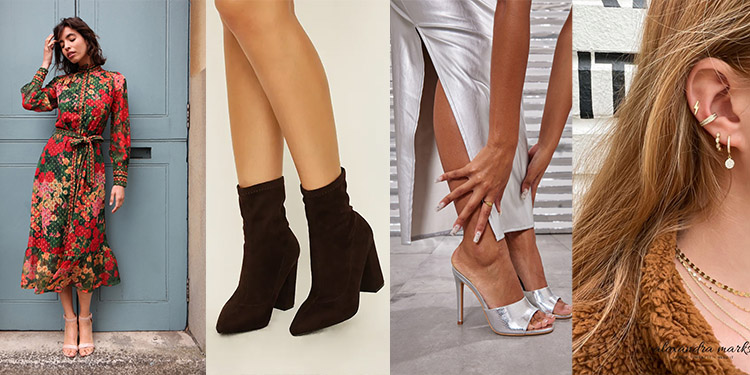 Keep your jewelry pretty and minimal, like dainty gold earrings or a delicate necklace.
Avoid big, loud, chunky statement pieces that outdo the dress. Keep makeup natural with just a little color on the lips to finish it out.
Check the weather – fall days can be unpredictable, and fall nights can be downright cold.
Bring along a light cardigan or wrap for a backup layer, like this one, that complements the dress beautifully.
Forest Wedding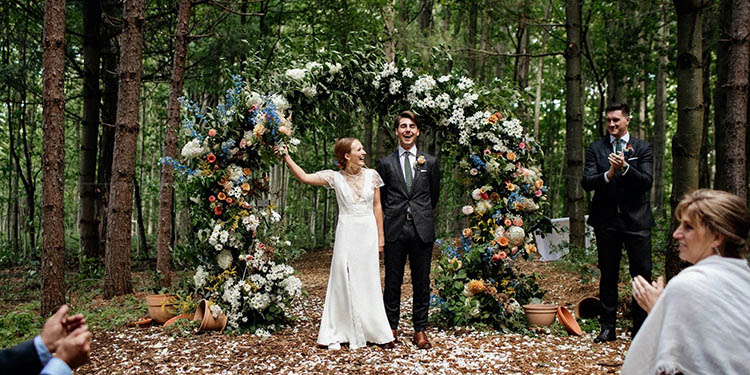 A wedding in the woods calls for an attire that naturally blends well with its surroundings.
Opt to go for deep green colors, rustic brown, and warm orange hues.
Consider using fabrics that naturally have a rustic look or texture, such as lace and velvet.
A long floating maxi dress in some deep green color may be one idea.
The plan would be great. However, a maxi dress with some lace details or floral patterns wouldn't hurt the mood as it could be added to a romantic and somewhat woodland style.
Since it may be inconvenient to walk the forest in heels, choose ankle boots or even flat loafers — any comfy shoes will do.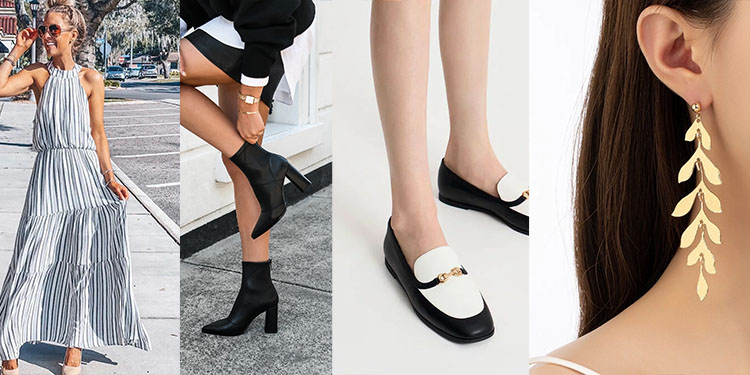 Jewelry should be simple and nature-inspired. Delicate leaf-shaped earrings or a pendant necklace would work well. Ideally, they would have been made of wood or stone.
Now, to the fun stuff! Accessories! Buy a beautiful shawl or cape for a chilly evening.
In colors like burgundy and mustard yellow, they'd go great with the deep green in your dress.
And, of course, don't forget the wide-brim hat! Aside from being cute, it'll also keep your head cool.
Farm-to-Table Wedding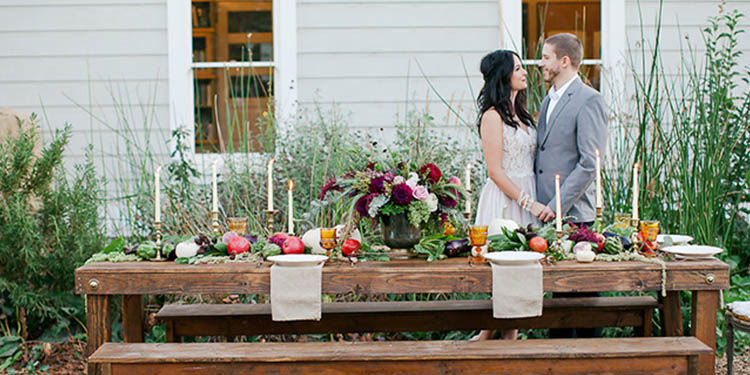 Farm-to-table weddings are all about embracing the laid-back, rustic feel of a countryside setting.
If you're getting dressed for a wedding like this, opt for colors and fabrics that fit the natural beauty of this time of the year.
Rich browns, reds, oranges, or greens are perfect fits in this type of environment.
Maxi dresses again work perfectly for a farm-to-table wedding.
Choose something flowy and bohemian and made of chiffon or even silk.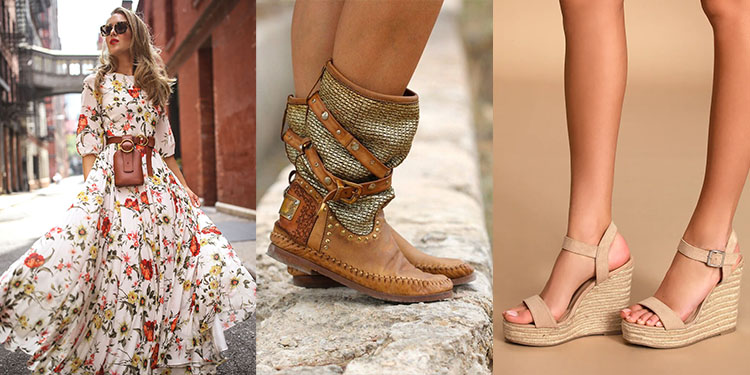 If you choose a maxi dress in a floral print or with a paisley pattern, it is even better.
Grab some boho-like ankle boots or suede wedges to make sure you can navigate the outdoor terrain, which is key.
When picking out jewelry, keep it minimal and elegant.
A nicely done gold necklace and some small studs will do the trick to keep from overpowering the dress.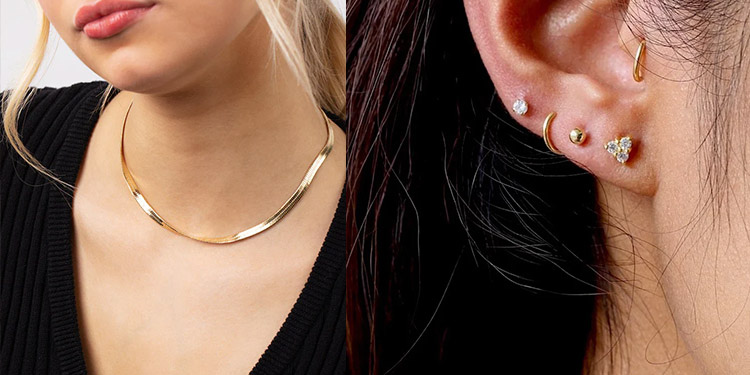 Bohemian Fall Wedding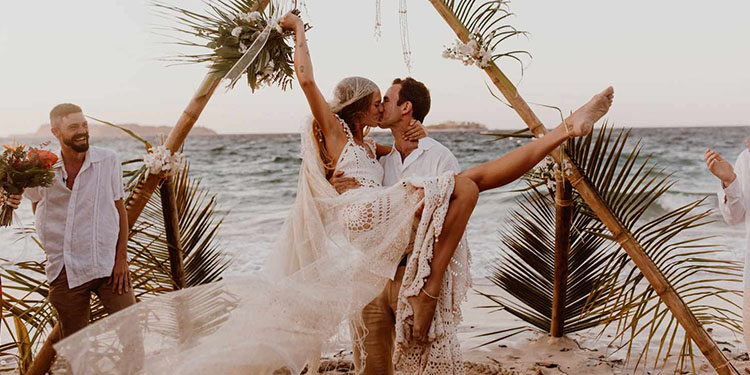 Bohemian-inspired fall weddings are all about creativity and a wild, free-spirited energy when it comes to putting together a look.
Natural colors, flowy silhouettes, and textured floral prints are all signature elements of boho attire at a wedding.
For fall colors, burgundy reds, dark oranges, yellows, mossy greens, and rich browns are all great options for a bohemian wedding.
Pair any of these colors with maxi or midi dresses in light, flowing materials like satin or chiffon.
Accessorizing at a bohemian fall wedding should include statement pieces of jewelry.
Chunky gemstone necklaces or long beaded ones are great options for necklaces.
Feather earrings, stacking rings, or bangles will all work perfectly for a boho-chic look.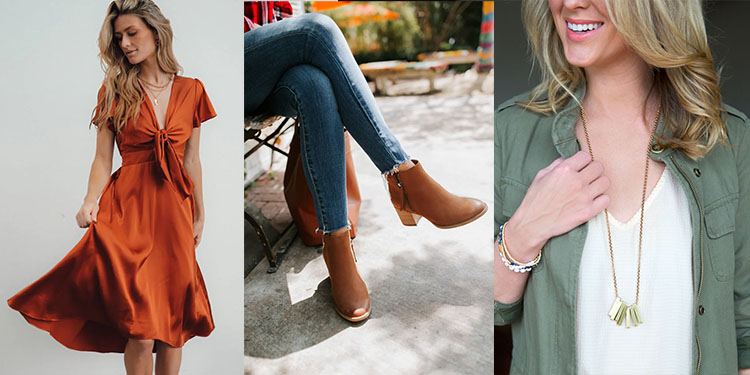 An outfit example of what to wear may be a rust-colored midi dress with long, bell sleeves.
Pair it with a comfortable brown leather ankle boot.
Wear a kimono with a random pattern over it for that indie touch.
Accessorize with long pendant necklaces and beaded bracelets.
Let your hair down in some loose curls and wear minimal makeup to keep the look effortlessly bohemian.
Apple Orchard Wedding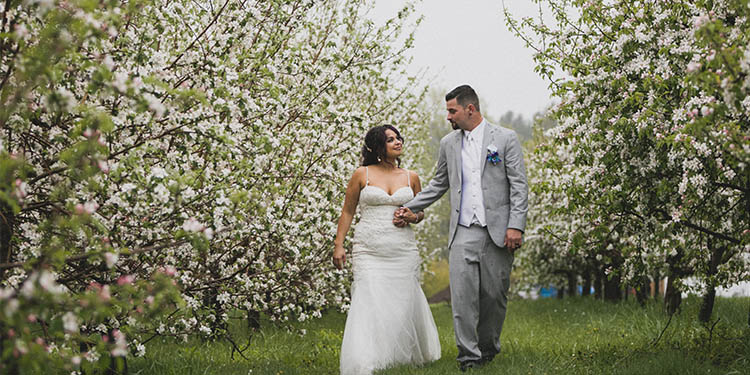 For an apple orchard wedding, you'll want to embrace the beauty of the venue and the season.
That means a fall color palette is your best friend!
Warm and earthy colors will reflect the tones of the apples and the natural surroundings.
Think oranges, browns, and greens. Not only will you be more in touch with nature, but it'll also enhance the elegance of your wedding guest outfit.
For this type of wedding, think flowy midi dresses or long-sleeved maxi dresses for formal weddings.
Look for leaf patterns (especially in prints) to tie the wedding's theme together or even a small floral pattern.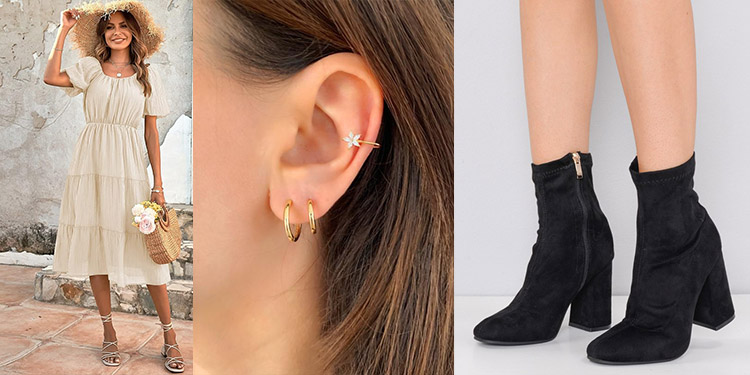 A natural and toned-down piece of jewelry would be the best choice for this theme.
Opt for delicate gold hoops or a pair of dangly statement earrings in a leaf pattern.
Finish up your outfit with comfortable yet stylish accessories, including a pair of ankle boots or low-heeled pumps.
A dressier blazer or even a wrap shawl, in case it's a bit cooler, would be a great addition to your outfit.
Vineyard Wedding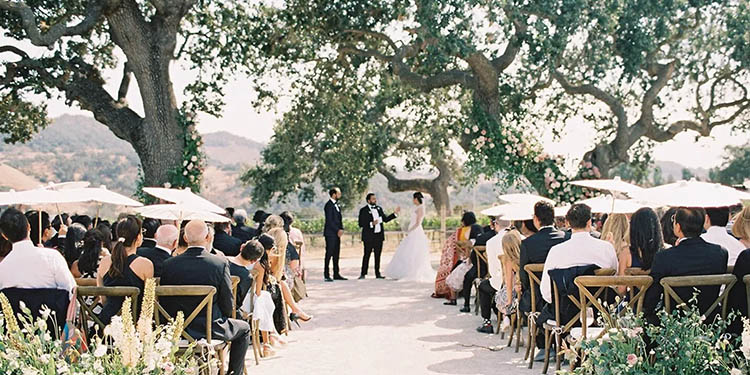 Vineyard weddings call for a balance of elegance and natural beauty, and when the venue's grace and charm take center stage, your attire must reflect that.
Airy maxis and pretty midis in silk, chiffon, or lace all fall into the color palette of rich burgundies, deep greens, and warm neutrals that are oh-so-appropriate for the season.
For silhouettes, think romantic: A-lines, ruffles, and flattering wrap dresses.
Don't forget to complete your marvelous outfit pick with a few dainty surprises, like a silver statement necklace or elegant earrings to give off some twinkle but not enough to overpower your look.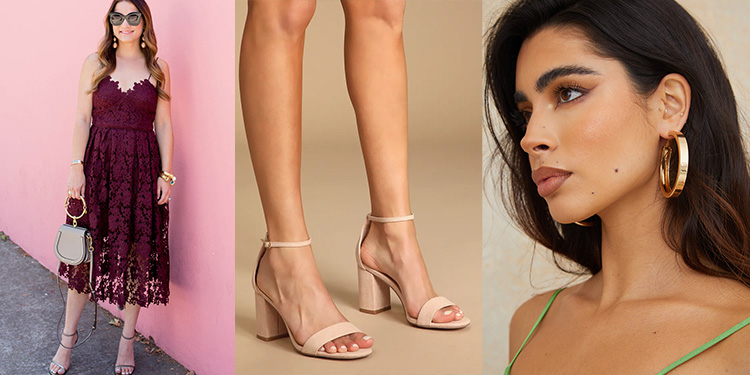 The last step to completing the outfit process is, of course, shoes, which should either be strappy heels or darling little flats that give a little nod to style but were made for comfort.
One example of what to wear to a vineyard wedding would be a typically elegant burgundy lace midi dress, nude ankle strap heels, and statement hoop earrings.
There's something about the combo of a sexy but classic dress like this that seems best suited for a fall day spent sipping wine at a vineyard.
Halloween-Inspired Wedding
If you're attending a Halloween-inspired wedding, part of the fun of the occasion is dressing up and embracing the spooky season.
However, though it's tempting to channel your inner child and trick-or-treat down the aisle, the goal is to look joyful and festive without being over the top.
Begin by selecting your colors. This is a time when those of the witching variety will be celebrated.
Rich colors such as velvet blacks, dark purples, and vibrant oranges are great autumn choices.
Select a costume to dominate the attire! The month of October brings a chill, and beautiful outfits can sometimes be sleeveless.
Everything needs accessorizing. For a themed wedding, bling-bling should be bold and should be matched with the other accessories in your outfit; just don't go too crazy.
There is a line that we should make an effort not to cross. Do not let a grinning jack-o'-lantern face glare at you from across the church.
Bottom Line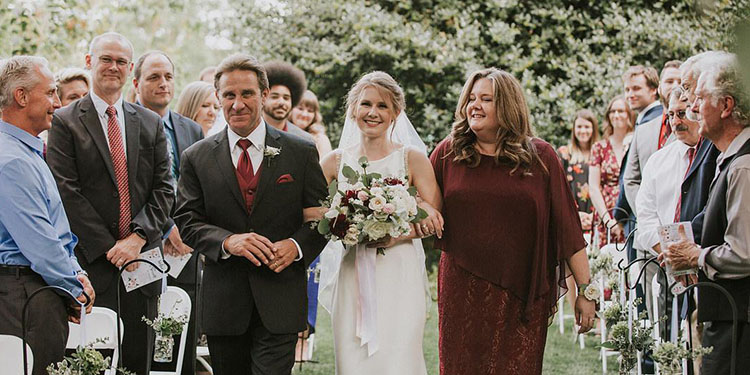 Well, there you have it – the Fall Wedding Attire guide is full of over a dozen fashionable outfit ideas for guests.
Whether casual rustic country fall wedding or black-tie formal fall event inspiration is what you seek, we've got the perfect suggestions for each kind of guest.
The colors are rich and exciting, so enjoy incorporating them into your look along with light layers.
And, of course, don't forget about such times when you have fun exploring some wild ideas, for example, dressing up in a costume for a Halloween-themed wedding or a costume party.
Be aware of the fact that when dressing up for a wedding, it's not all about you - show some respect for the couple's big day and wear your best dress or suit!