Modern Ways in 2023: How To Wear Pearls Without Looking Old Fashioned
07 Mar

Pearls are timeless and elegant jewelry that women have treasured for centuries. They have come to represent luxury and exclusivity, signifying the wealth of the person wearing them. In the early 1900s, wearing pearls was a bold statement that challenged societal conventions and embraced independence. For women during this time, it symbolized their defiance of expectations to stay at home and not work and was a sign of their financial independence and determination. Even today, wearing pearls symbolizes wealth and sophistication, making them a timeless addition to any jewelry collection.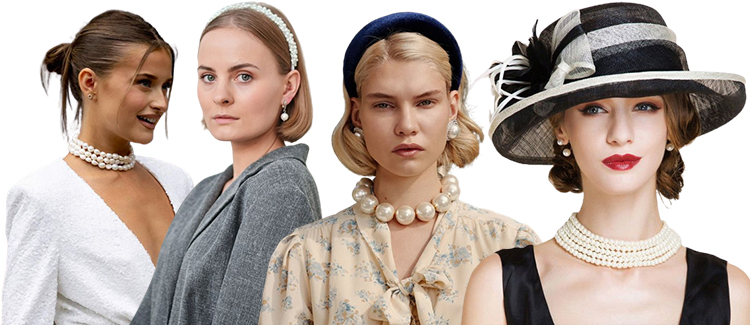 Looking for a way to add a touch of timeless elegance to your wardrobe? Look no further than pearls! Despite their reputation for being a little old-fashioned, you can rock these beauties in a fresh and modern way in 2023. This article will share the latest tips and tricks on wearing pearls and staying ahead of the fashion curve. So whether you're looking to dress up your everyday look or make a statement on a night out, we've got you covered. Get ready to discover a whole new world of stylish pearls!
How to make a statement in 2023 by elevating your wardrobe with the timeless beauty and versatility of pearls
Incorporate pearls into your everyday look.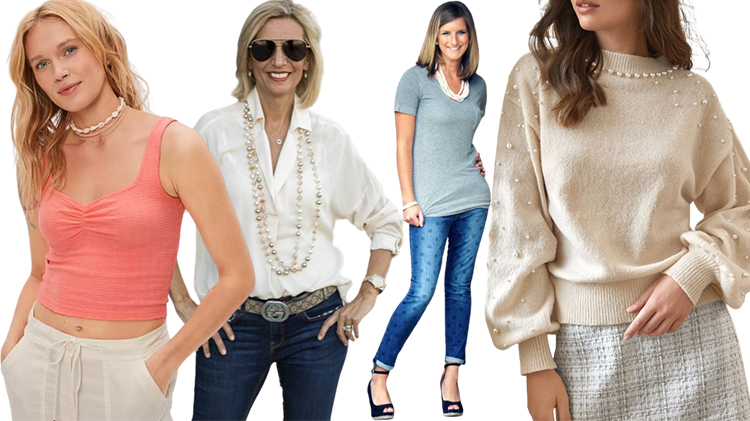 Elevate your casual look in 2023 by styling pearls with your basics. Say goodbye to the notion that pearls are only for special occasions. Instead, pair your pearl necklace with everyday essentials like t-shirts, tank tops, sweatshirts, and oversized shirts. The timeless beauty of pearls will instantly upgrade your casual outfit. Finish the look with your favorite jeans and sneakers, or dress it up with heels. Wear pearls freshly and effortlessly, blending classic elegance with modern style.
Layer multiple necklaces together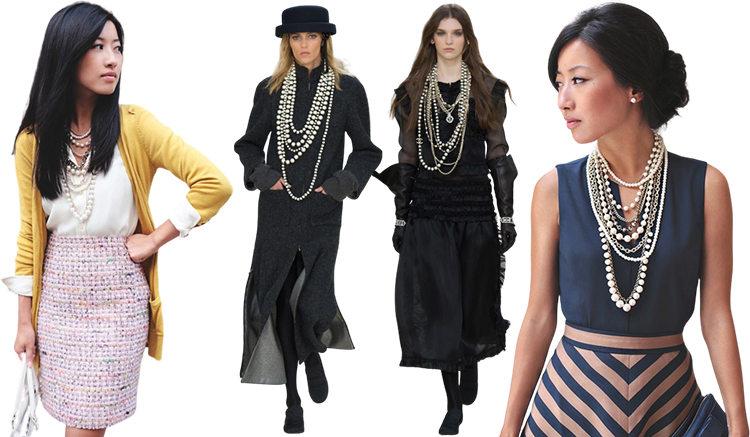 Mix it up with multiple pearls! This fresh take on the classic pearl necklace is a fun and fashionable way to upgrade your look. By layering necklaces of varying lengths and sizes, you'll create a one-of-a-kind accessory that will turn heads. Go wild and mix different styles and colors for a boho vibe, or keep it simple with all matching pearls.
Whether you pair your layered pearls with a casual outfit or a fancy get-up, they'll add a touch of sophistication that can't be beaten. So why not make a statement and layer up in 2023? It's a fun and effortless way to show off your fashion sense and add some extra glam to your wardrobe!
Use multiple colored pearls.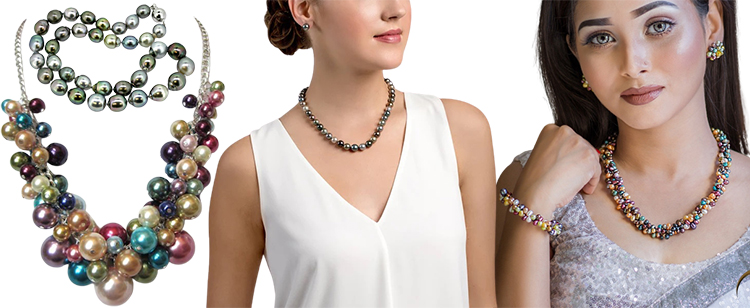 Get playful with a pop of color! By using multiple colored pearls, you'll add a fun and vibrant touch to your jewelry collection. Mix and match shades and hues to create a one-of-a-kind accessory that will turn heads. In 2023, embracing different colored pearls is a stylish and easy way to bring personality and creativity to your wardrobe. So why try something new and bring some color to your pearls today?
Look no further than the Tahitian pearls for a classic example of a known pearl type. These stunning pearls are known for their dark and rich colors, ranging from green to black, and their unique and organic shape. So you can pair bold and vibrant outfits with Tahitian pearls!
Incorporate modern pearl earrings.

Step up your pearl game with modern earrings! From dainty studs to statement hoops, there's a perfect pearl earring style for every taste. Mix it up and add some edge to your look with trendy designs. Pearl earrings can be dressed up or down and are a versatile addition to any jewelry collection. Upgrade your outfits with a new pair of pearl earrings today.
Wear pearls with everything(Especially jeans, Boho dresses, Preppy Pastels, and Urban uniforms.
It's time to shake things up and wear pearls with everything! Say goodbye to the idea that they're just for fancy events. Give your everyday look a touch of sophistication by pairing them with jeans, boho dresses, preppy pastels, and urban uniforms.
Pearls add an effortless elegance to any outfit, no matter how casual. Don't be afraid to have some fun with them! Mix and match, layer and stack - the possibilities are endless. You'll love how versatile pearls can be and how easily they elevate your look. So, let's make pearls a staple in our everyday wardrobe - a trend that always stays in style!
Wear larger pearls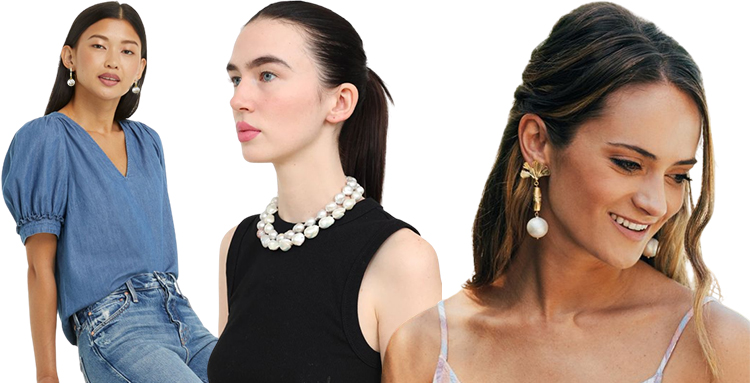 Ditch the tiny pearls; it's about making a statement with the big guys now! Layering multiple large pearls can elevate any outfit, making them the perfect addition to your jewelry collection.
Take them for a spin with your favorite denim and a casual tee. If you need to get into the classic pearl pendant necklace, switch it up with a pair of pearl earrings. The right ones will bring sophistication to any casual look without feeling too formal.
Shake things up with irregular pearl shapes.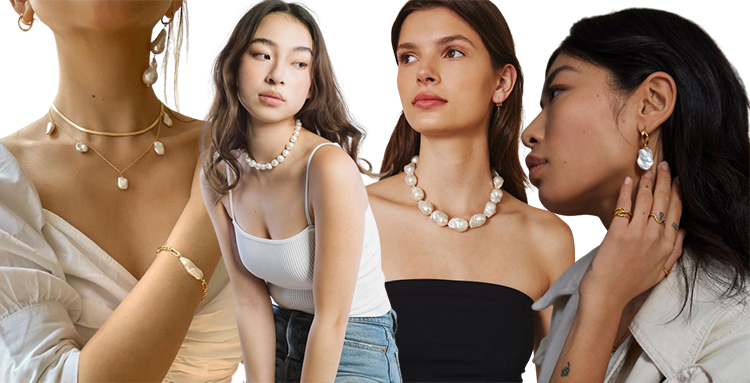 If you're a fashion lover like me, you have a soft spot for freshwater pearls. They come in all sorts of irregular, funky shapes, which makes them unique. Instead of sticking to those classic, round pearls that our moms and grandmas used to adore, try switching things up with necklaces featuring "perfectly imperfect" keshi or baroque pearls. This adds a modern and trendy touch to your look without going overboard. Plus, the thought of owning a one-of-a-kind pearl is amazing.
Go for abstract pearl necklaces.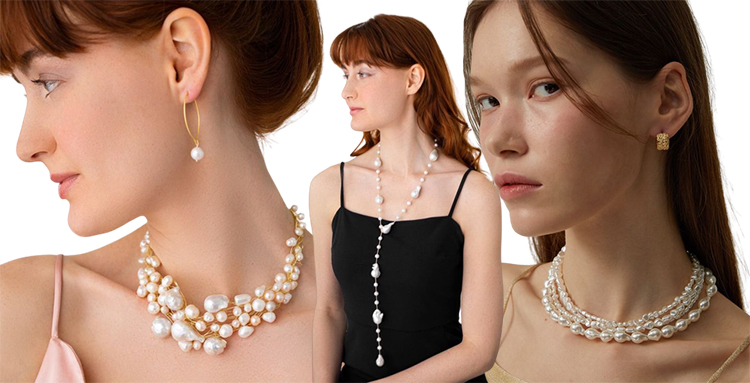 Abstract pearl necklaces can be a stylish and unique way to incorporate pearls into your wardrobe in 2023. These necklaces often feature unconventional designs and arrangements of pearls, offering a fresh and contemporary take on the classic gem. By choosing an abstract pearl necklace, you can add a touch of creativity and individuality to your look while still enjoying the timeless beauty and versatility of pearls.
Wear a pearl ring instead of a pearl necklace.
A pearl ring is a fantastic alternative to a pearl necklace if you want to switch up your pearl game. This versatile piece of jewelry can be dressed up or down and adds a touch of sophistication to any outfit. Whether you prefer a solitaire pearl or a more elaborate design with multiple gems and pearls, a pearl ring is a statement piece that will turn heads and make you feel confident and stylish. Plus, you can wear it on your finger, making it a convenient and eye-catching accessory that's always within reach. So, if you want to try something new with your pearls, consider a stunning pearl ring - you won't regret it!
Where to wear pearls
Pearls are the ultimate versatile piece of jewelry anyone can rock on any occasion! Here are some fab spots to show off your pearls:
Formal Events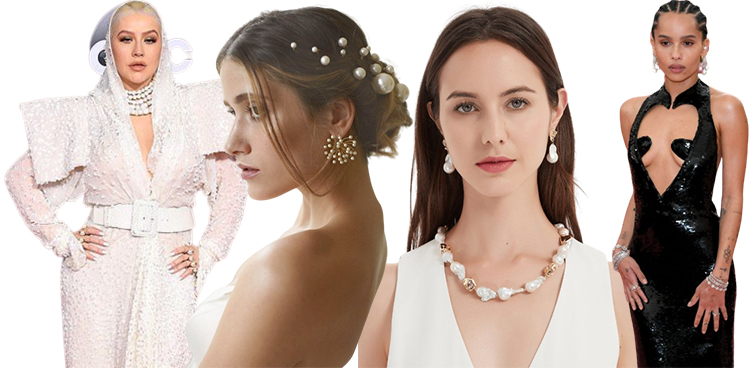 Wear pearls for weddings, black-tie dos, galas, and other fancy shindigs. A simple pearl necklace paired with a fancy dress or gown will elevate your style and add sophistication to your look.
Source: Assael
Work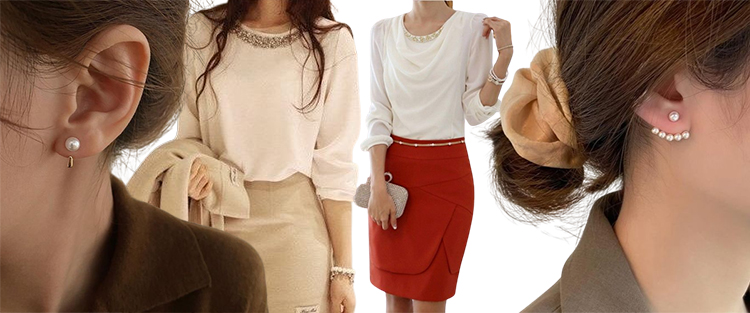 In a formal or casual environment, pearls can be a chic accessory to enhance your work attire. Pearl stud earrings or a bracelet will add a touch of elegance to your office look.
Source: Laguna
Informal Settings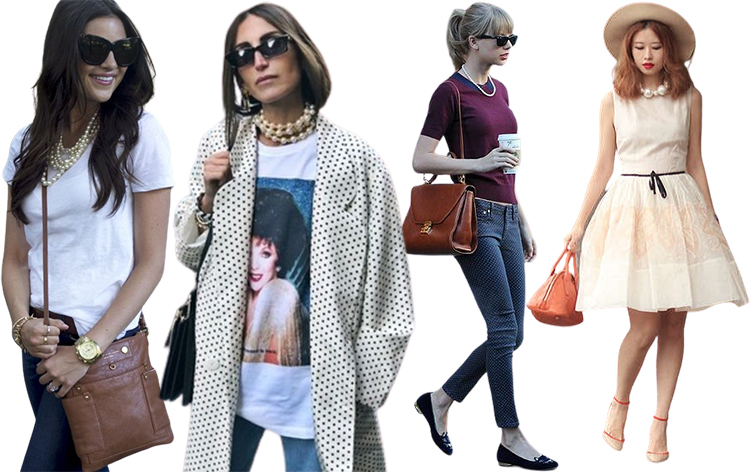 Don't limit pearls to formal events only! They can be dressed down for a more relaxed look too. Try a simple pearl necklace with a t-shirt and jeans for a cool, laid-back look. Or, match a pearl strand with a cute sundress for a fashionable yet relaxed summer look.
Source: Simons
Night Out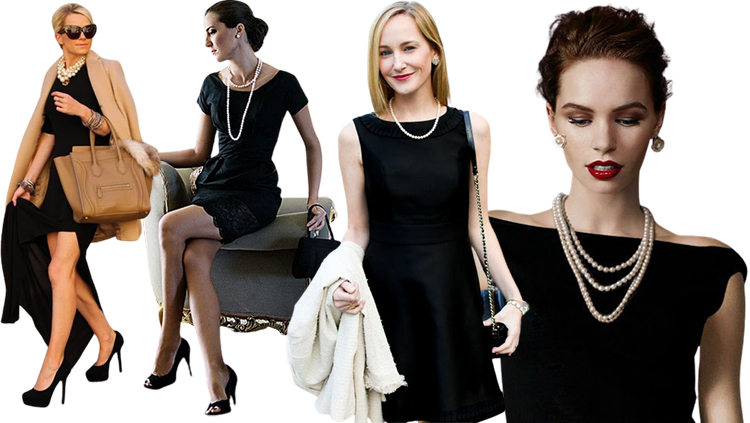 Get ready to turn heads on your next night out by pairing a bold pearl necklace with a little black dress. This chic and sophisticated look is perfect for hitting the town with your gal pals.
Source: Pinterest
Beach Day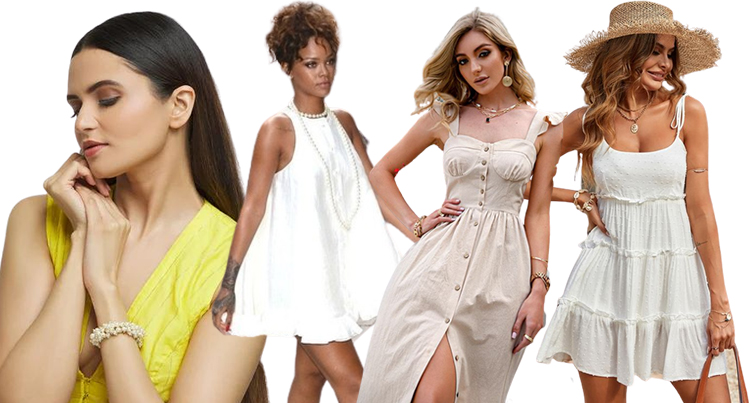 Yes, you can even rock pearls on the beach! Add a touch of glamour to your beach day look with a few layered pearl bracelets or a long pearl necklace paired with a flowy sundress.
Source: Pinterest
Casual Fridays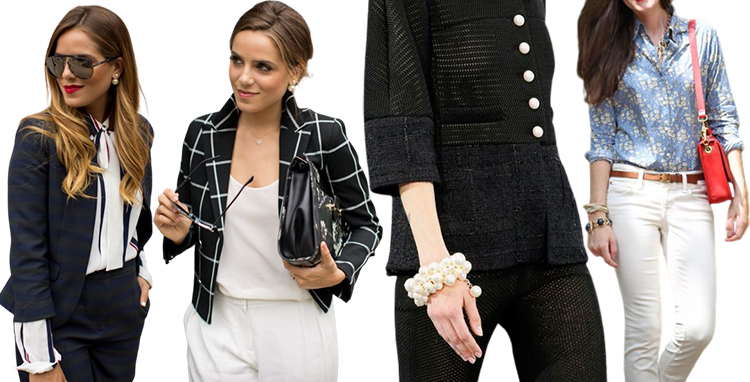 Fridays are for dressing up, even if it's just for work. Add sophistication to your casual work look with pearl earrings or a pearl bangle. Stand out from the crowd and show off your style!
Source: Pinterest
Anywhere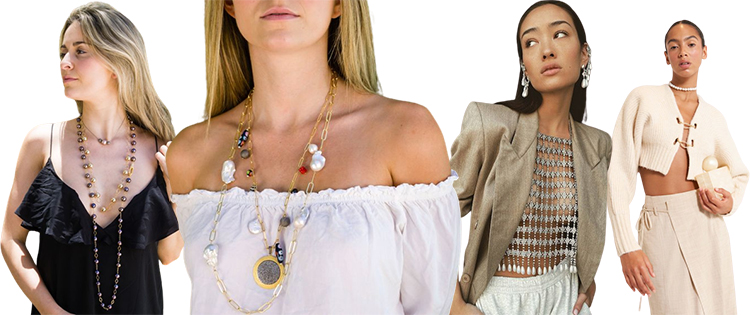 Yup, you heard that right! You can wear pearls anywhere you want! Whether running errands, brunching with friends, or lounging at home, pearls can add a touch of sophistication to any outfit and setting. Mix and match with other jewelry pieces to create a personalized and stylish look.
Remember, choosing a style that complements your taste and style is the key to looking fabulous in pearls. Whether you prefer a classic, traditional look or a modern, eclectic vibe, there's a way to incorporate pearls into your wardrobe. So, go ahead and have fun with your pearls.
Conclusion

To wrap up, pearls are here to stay, and they're not just for grandma anymore! With creativity and outside-the-box thinking, you can rock these classic beauties in modern ways. Whether layering multiple strands or pairing them with your favorite casual outfit, the sky's the limit regarding how you wear your pearls in 2023. The most important thing is to have fun with your style and make pearls your own. So, go ahead and embrace the versatility and elegance of pearls and let your unique sense of fashion shine!