Princesses and Duchesses Who Became Style Icons: From Outfits To Pearl Accessories
21 Oct

Style is a language that goes beyond words, as exemplified by two noble titles that have consistently shaped and reshaped fashion across the decades: princesses and duchesses.

Be it their magnificent outfits or their elegantly understated pearl accessories, these royal women have exerted an influence on the fashion landscape that echoes down the ages.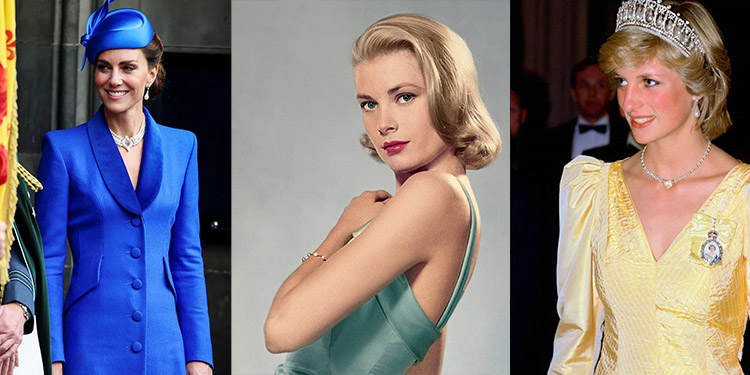 As a stylist, I can tell you this impact is still being felt today – there are many current trends in fashion that take inspiration from timeless looks worn by iconic princesses and duchesses.
From Grace Kelly's classic elegance to Princess Diana's bold choices, here are some of the most unforgettable style moments from these blue-blooded ladies.
Grace Kelly: The Ultimate Fashion Icon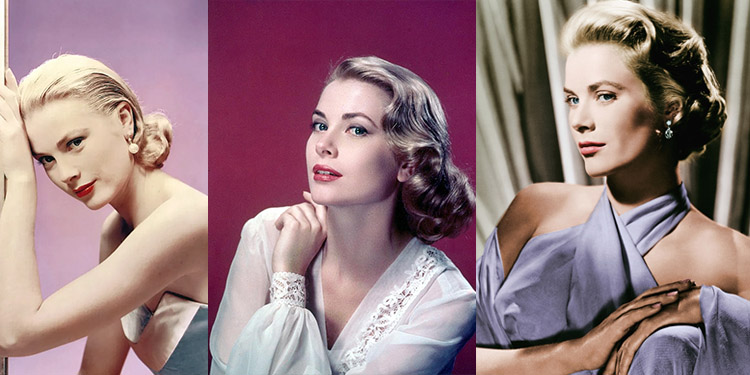 The actress-turned-royal was living proof of fairy tales coming true.
Already an audience favorite for her sense of style when she was a film star, Kelly upped her game even more after acquiring her new status.
Her look was minimalistic, simple yet sophisticated. She wasn't one to wear flashy jewelry, so her go-to accessory – pearls – was always discreet.
Her clothes tended to be structured and elegant with lots of lines in them; neutral colors such as whites, beiges, and blacks were big favorites.
Oh yes, what about THAT wedding dress? One of history's most memorable frocks set a template for bridalwear, which remains influential today.
What Did She Wear?
Kelly loved classic pieces that stood the test of time.
Among her most iconic garments were the Hermes "Kelly" bag (named after her), a famous black dress seen in the Hitchcock movie Rear Window, plus all those pastel frocks she wore during her wedding festivities.
However, maybe one moment stands out even more than all those examples put together: when she first met Prince Rainier III of Monaco while wearing a white floral dress teamed with a matching jacket and gloves.
It was a look that perfectly summed up her feminine yet regal approach to fashion – and which is still being referenced today.
Princess Diana: The People's Princess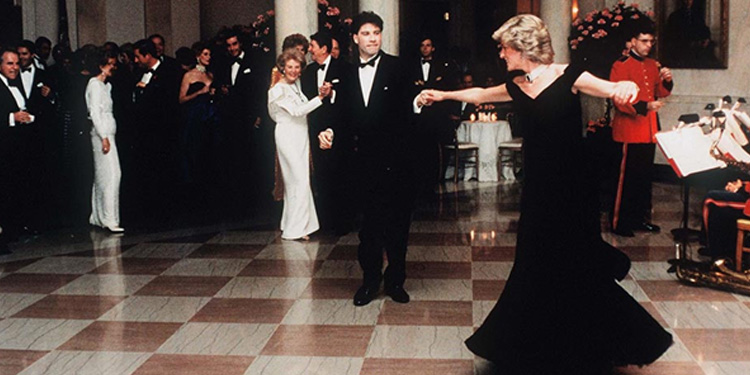 Princess Diana was a true style icon, always dressing for herself.
Her style combined classic and modern elements and often featured bold colors and patterns.
But fashion was more than just fun for her; it was also a form of communication.
She championed up-and-coming British designers, plumped for bright, head-to-toe looks and lower-heeled shoes… the lot.
She brought asymmetry into fashion again, bravely wearing what looked like a tuxedo as an evening dress or giving a full display of her bare back at all times.
And – sophisticated yet very democratic – she altered the course of fashion in the 1980s and 1990s significantly.
The Most Popular Outfit Pieces and Accessories Worn by Princess Diana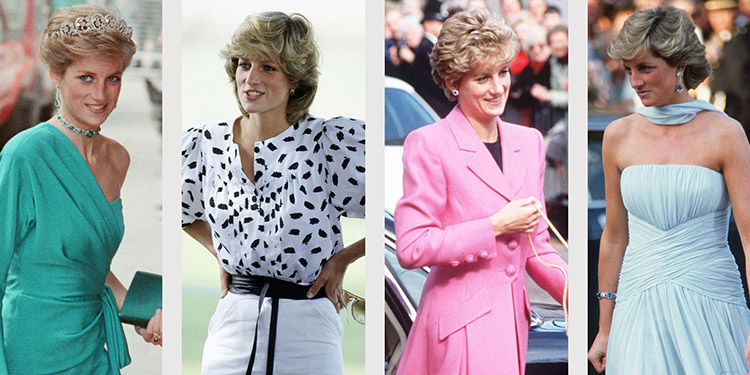 Diana's look changed constantly with new trends – somehow while staying ahead of them.
Some timeless classics include the "revenge" dress worn after Prince Charles' infamous television interview, that black sheep jumper, or her sapphire engagement ring.
But it wasn't just clothes that grabbed attention. The Princess loved statement hats and fascinators, too, adding drama to outfits.
Then there came Lady Dior's handbag, which Diana made irresistible to anyone who cared about fashion.
David and Elizabeth Emanuel's wedding dress for Diana is still one of history's most iconic bridal gowns: its 25ft train and huge skirt set a standard royal wedding would follow in their own ways from then on.
And you can't talk pearls without thinking about Diana's pearl choker necklace from the Queen – she wore it with off-the-shoulder evening dresses so much that they became something of a signature look.
Stephanie: Graceful, Feminine, and Modern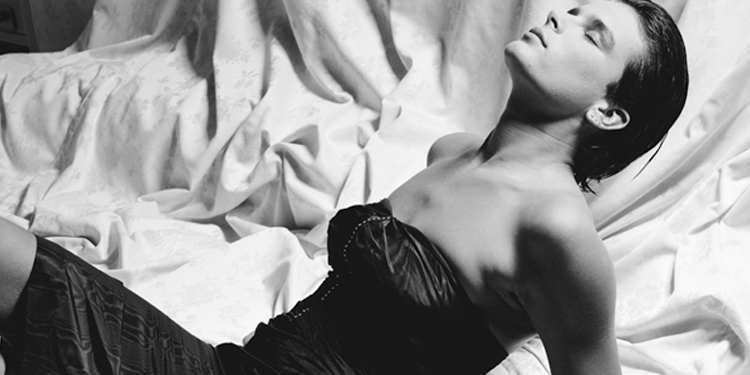 A serious competitor to Diana for hearts and souls, a real (and literally too) pop star and fashion idol of the 80s, the daughter of Grace Kelly knew how the fashion world works.
When she was very young, she got a job as an assistant to Dior chief designer Marc Bohan.
She was 18 then, but Stefania had three abilities. Soon, she became a real member of the team, and everything was going great, but Princess wanted rock chic, not Dior delights.
After leaving her prestigious job, Stephanie changed her style, preferring to spend time at parties and Gaultier shows.
Biker jacket, glasses, jeans - this is her territory now. Stephanie could become a trendsetter that many women look up to and admire in terms of fashion.
Rebellion & Empowerment in Stephanie's Looks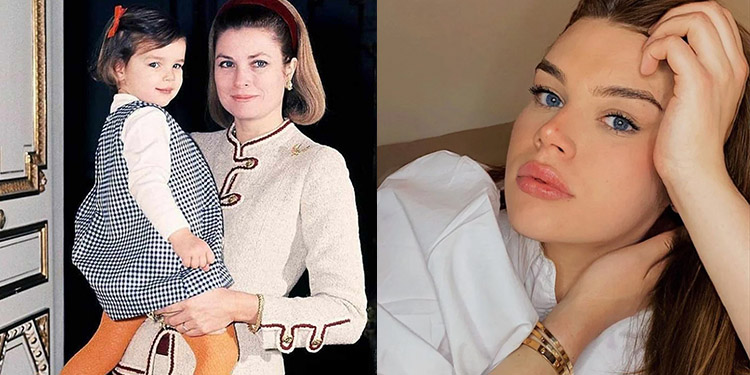 Stephanie's style is best known for its mix of feminine and masculine elements.
She often paired a flowing, delicate dress with a leather jacket or tough boots, creating an edgy, modern look.
Some signature outfit pieces include biker jackets, oversized blazers, high-waisted jeans, and graphic tees.
She also loved to accessorize with statement sunglasses, chunky jewelry, and bold belts.
But perhaps her most iconic accessory was her short-cropped hair – Stephanie's pixie haircut became symbolic of rebellion & empowerment for women around the world.
It also showed that femininity can be expressed in many different ways – breaking traditional stereotypes.
Kate Middleton: The Modern-Day Fashion Icon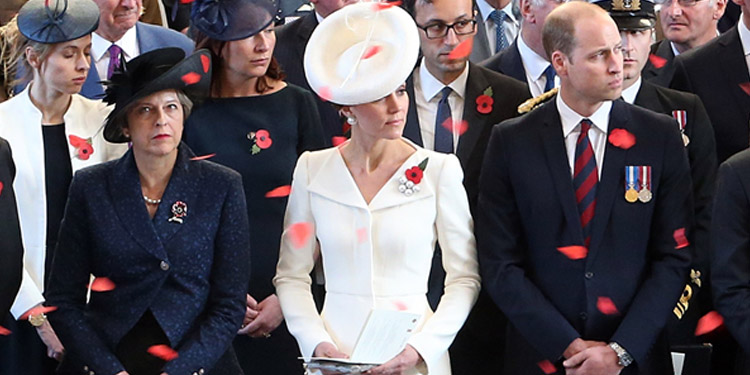 In the past few years, the royal spotlight has shifted to another member of the family – Kate Middleton. Like Stephanie, she is a fashion icon in her own right.
Belonging to The Firm automatically gives you credibility with the public. The question is: not everyone manages to use this loan correctly. Middleton does.
Experimenting with style (including staying within certain limits that tradition imposes) and looking extremely modern at all times is an art.
Middleton enlivens official outfits with democratic elements as Diana did, often choosing a mass market (which is very encouraging both for the public and the brands themselves).
Sales go sky high when Kate takes a shine to something), and generally personifies "the British monarchy" with a human face.
Street Fashion and Simple Accessories: What the Duchess Prefers?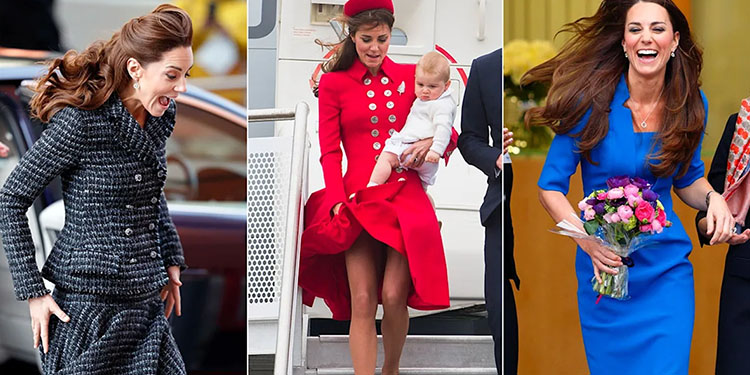 Kate's popular pieces are classic, like her clothing choices – tailored coats, dresses nipped-in at the waist, and knee-length skirts being her hallmarks.
The Duchess of Cambridge loves lace; floral prints feature heavily in her wardrobe, too.
And then there are those timeless pieces such as pearl earrings or structured handbags, which are now part of every royally-minded woman's wardrobe.
One example? The blue Issa dress worn by Kate for her engagement announcement!
Twenty-four hours later, it was sold out worldwide after sparking a global frenzy.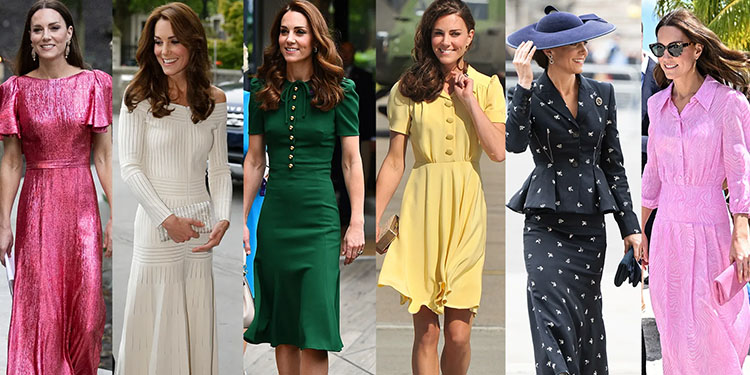 Kate loves high street fashion too: Zara, Topshop, and Reiss are just some of those brands that have benefitted from having their clothes showcased on one of the most famous women on earth.
Someone who makes £1 worth £1000 if ever there were such a thing as magic money dust.
As for jewelry, everything Catherine wears seems to have a story attached.
Her sapphire engagement ring isn't new but belonged once upon a time to Princess Diana.
She has also been known to wear charm bracelets packed full of sentimental meaning or necklaces featuring initials/letters relating to her children and, of course, those pearls.
Long associated with class and elegance, the latter are a royal fashion staple and have been for centuries.
Meghan Markle: A Modern Twist on Royal Fashion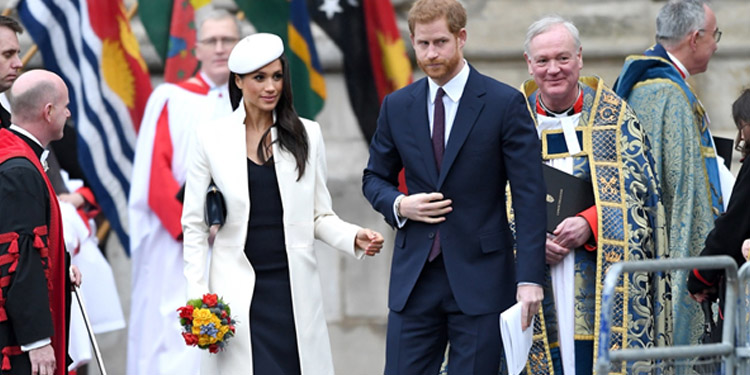 As soon as Meghan joined the royal family, she immediately overtook Kate Middleton as a fashion icon.
At least The Year in Fashion rating put Harry's fiancée one position above William's wife.
This is despite the fact that Megan evokes completely mixed reviews.
Some consider her "unfashionable" and are sure that Markle "will never become a true style icon like Diana was."
Others admire the American actress, calling her a representative of a new type of aristocrat. It might be hard to argue with this.
Megan (who, in fact, is – albeit slightly – older than Kate) is really from another dimension.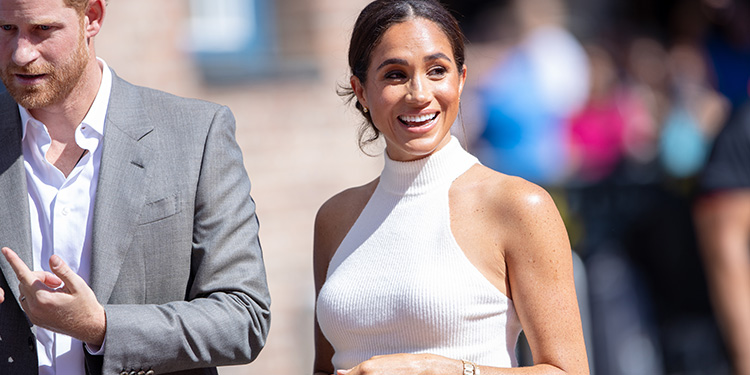 It's not just about the fact that her style is "more vulgar."
It's the former House of Representatives candidate, divorcee, and activist who has been in prison. And she was born and raised in California.
But despite some controversy surrounding her background choices, Meghan fashion waves and inspires countless women around the world!
Her style can be described as modern-ish, elegant, and rebellious-ish.
What Does Meghan Wear?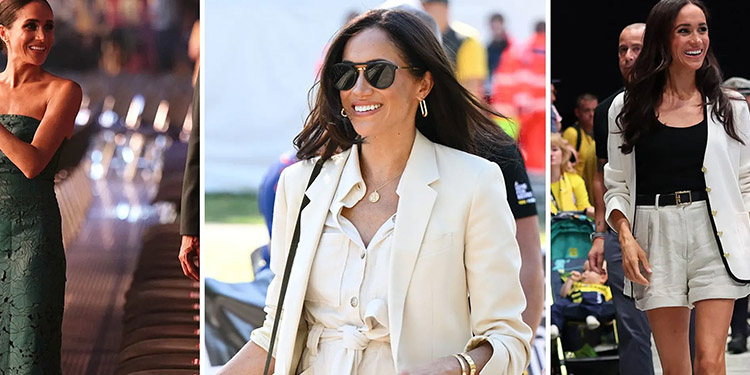 Meghan's most iconic outfit was her Givenchy wedding dress, designed by Clare Waight Keller.
It featured a simple silhouette with a twist, such as an open bateau neckline and three-quarter sleeves. The style inspired a trend for minimalist bridal fashion.
Another key item is Meghan's staple trench coat – from her first public appearance with Harry to engagements, she has sported elegantly tailored trench coats in various shades.
The Duchess has helped boost sales of Scottish label Strathberry after being seen sporting their signature tricolor tote bag on numerous occasions, leading items to sell out.
When it comes to accessories, Meghan favors delicate jewelry and small designs.
Her engagement ring – featuring a large cushion-cut diamond from Botswana flanked by two smaller diamonds from Diana's personal collection – is instantly recognizable as an emblem of their love story.
Bottom Line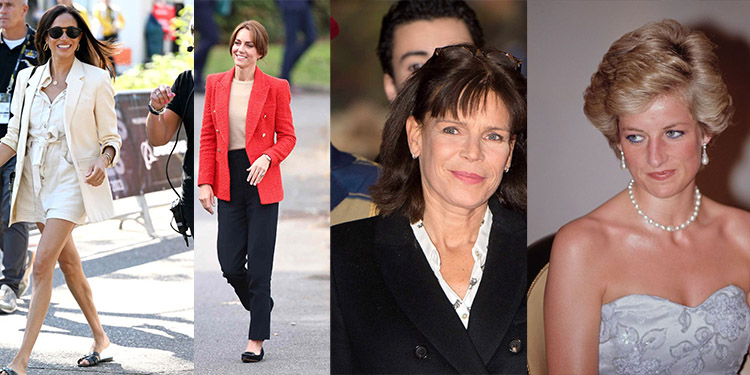 These princesses and duchesses have their own unmistakable style and fashion choices that have inspired countless women around the world.
Regardless of whether it is Kate's ageless elegance, Diana's boldness, or Meghan's modern twist, these royal females still motivate and set trends with their fashion selections.
And even though they face a media onslaught of scrutiny and criticism, they remain true to themselves and use their platform to support meaningful causes in society.
Their fashion is a small part of their lives but illustrates the influence held by these royal ladies.
So whether you are a fan or not, there is no denying the influence and legacy left on the fashion world by these ladies.