Reasons Why Pearl Bracelet Is the Ideal Accessory for Women
14 Nov

You may be tempted to buy dainty bracelets made from different metals.
However, we recommend pearl bracelets; they are an ideal accessory for women.
So, what makes them so special?
The reason is simple. Pearls are nature's gift and come with a rich history that dates back to ancient civilization.
They were an integral part of the lives of the Romans and the Greeks.
While some cultures regarded them as a symbol of social status, others associated them with divinity, power, and wealth.
Nevertheless, these beautiful objects are one of the most enduring and cherished gemstones.
Due to this, women across demographics have loved to adorn themselves with pearls for elegance and gracefulness.
The primary use of pearls was in jewelry making, and both genders wore them.
But in some cultures, they were used to adorn clothes as well.
Talking about jewelry, pearls can be threaded together or affixed into other metals to take a variety of forms, such as necklaces, earrings, rings, pendants, brooches, and even bracelets.
If you are someone who has been thinking of buying a bracelet, do not give a second thought before buying a pearl bracelet.
It will prove to be an ideal addition to your accessory collection.
Types of Pearl Bracelets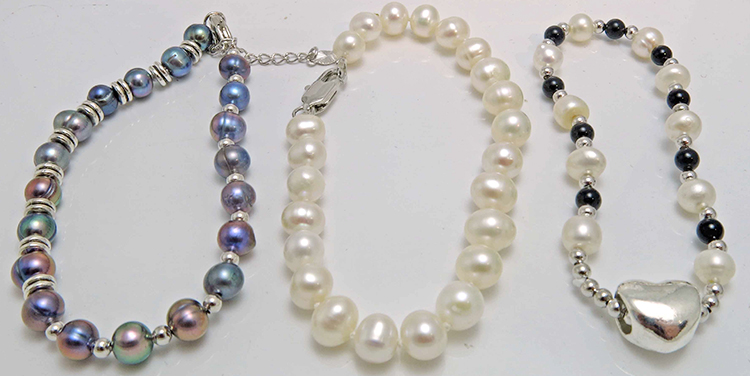 In the market, you will come across several designs. Here are a few for your consideration.
The Cartier bracelet is designed by the ace company with the same name and is a statement piece.
Cartier speaks of subtleness in a distinct manner, featuring a simple chain with a single pearl or a cluster of pearls in the center.
What makes it even more special is its easy integration with both formal and informal dresses.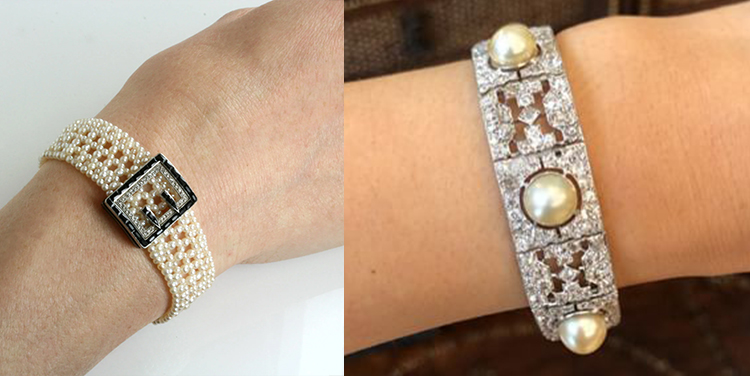 Classic ladies' pearl bracelet is a cord of pearls that represent feminity and is versatile enough to wear with any attire.
A hand chain or a hand bracelet can adorn the back of the hand and is ideal for women looking to experiment with their jewels.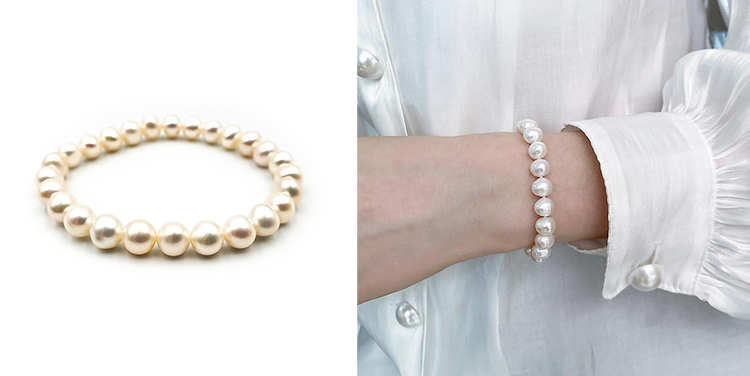 A couple pearl bracelet is another option, especially for the new generations.
Gifting each other a matchy bracelet is regarded as an expression of love and devotion to one another.
There are various designs and forms readily available.
However, one can also customize them to one's liking.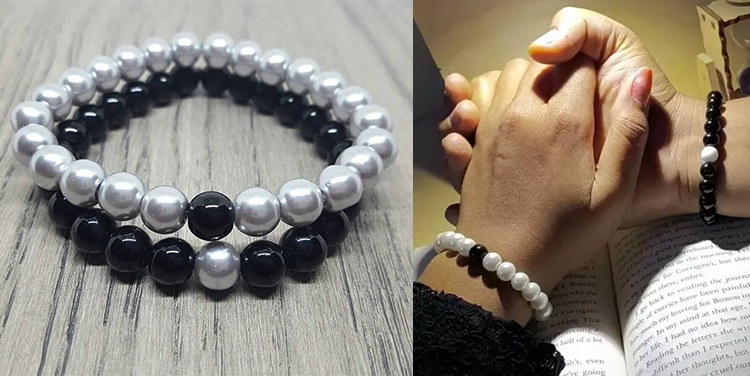 A charm bracelet is a whimsical way of adding a little more to the wrist.
Charms display memories close to one's heart or even hobbies; an addition of pearls takes their elegance to newer heights.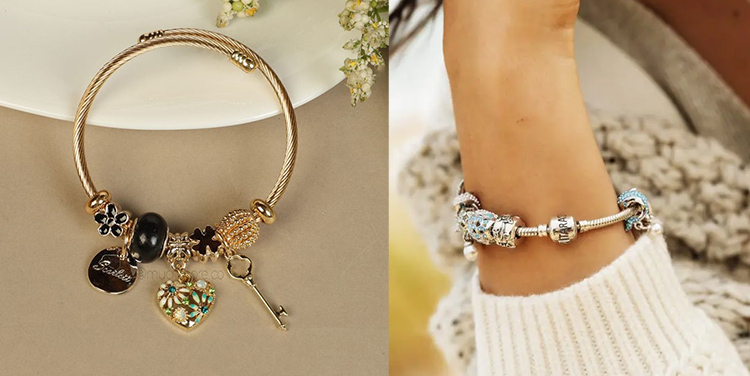 Tiffany & Co., A connoisseur of pearl will love the Tiffany & Co. Set in 18k white gold clasp and a 7.5" long;
this bracelet of Akoya cultured pearls comes with a decorative tag in sterling silver.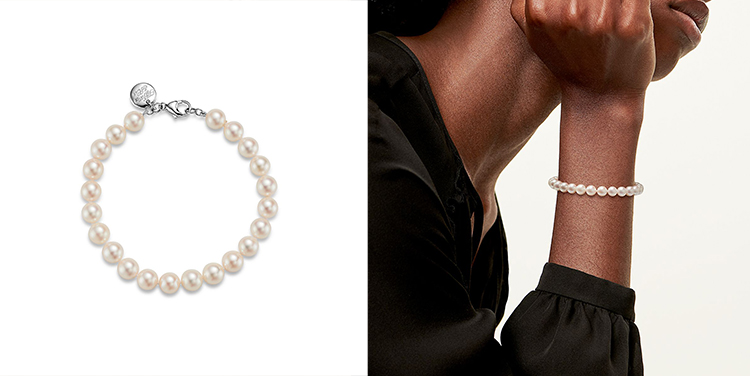 These are gorgeous options, but how do you choose the right bracelet?
For this, you need to consider several factors, as discussed in the next section.
How to Choose the Right Pearl Bracelet?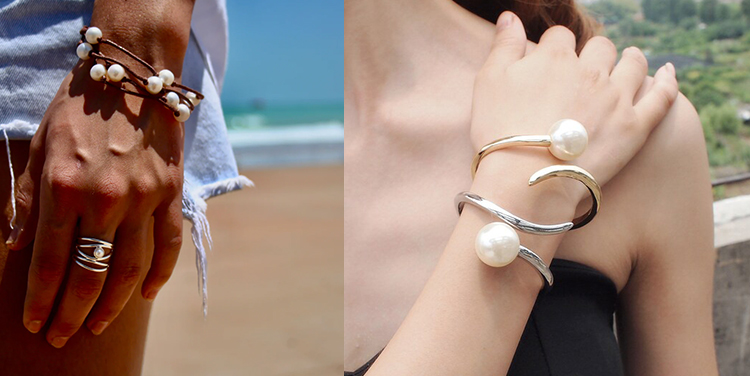 First, you must establish whether the pearl is natural, freshwater, saltwater, or imitation.
You may ask why. This is because the place of origin decides the quality as well as the cost of the bracelet.
The origin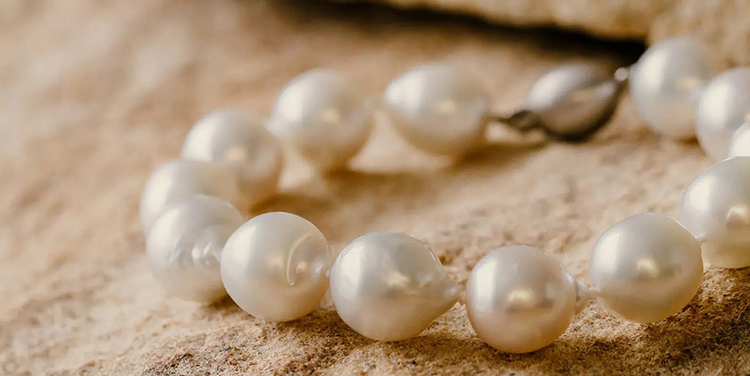 Natural pearls were extensively excavated from the oysters up until the 20th century and are rare now.
But with Mikimato discovering the artificial method of rearing pearls, the world has access to an array of pearls in colors, shapes, and sizes now.
These cultured freshwater or saltwater pearls are 100% real and are less expensive than natural.
Counterfeiters have been successful in creating fake pearls, those that look like pearls but aren't real.
These are good options for those who would like to own pearl bracelets but can't afford the high-priced ones.
To ensure you buy the right piece, choose reputed sellers, and don't forget to take the certificate of authenticity.
The size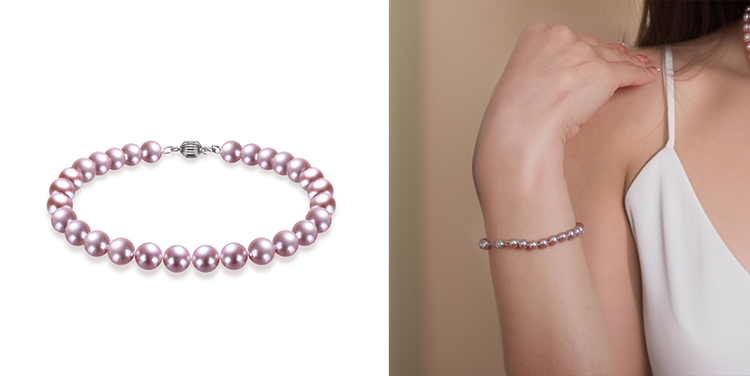 Women's pearl bracelet sizes can vary from 6.5 to 7.5 inches, with 7 inches regarded as the standard for most.
To establish the size of your bracelet, measure your wrist first.
To do so, you can use a flexible measuring tape. Wrap it around your wrist where you would like to wear the bracelet.
You may even use a paper, cord, or ribbon if a tape is not readily available.
When exercising the latter option, mark the spot with a pen or a marker where the two ends meet.
Then, calculate the length with a ruler. But don't be fooled; this is your wrist size.
To get the correct size of your bracelet, add ¼ to 1 inch to the already measured size.
The width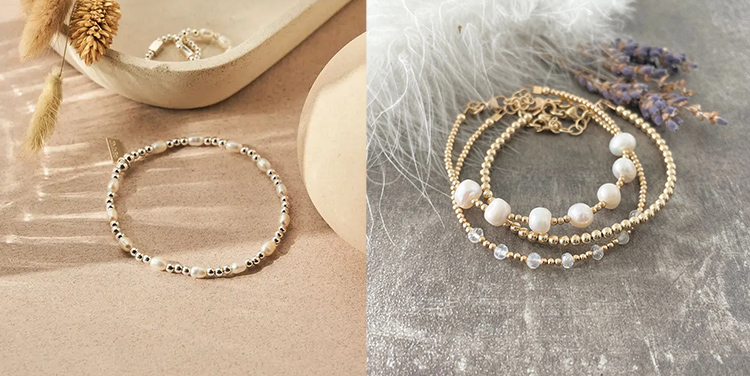 The width of your pearl bracelet depends on your personal preference.
You may choose small pearls for a sleek look or a clustered look for an eye-catching and glamorous look.
Pick smaller pearls, as larger pearls are not generally preferred for bracelets.
Try out different manufacturers that have different designs.
You can either buy one bracelet with multiple layers or buy multiple bracelets and match them.
However, a single bracelet with small pearls is a common design. Also, you can add a watch, but it is a matter of personal choice.
The color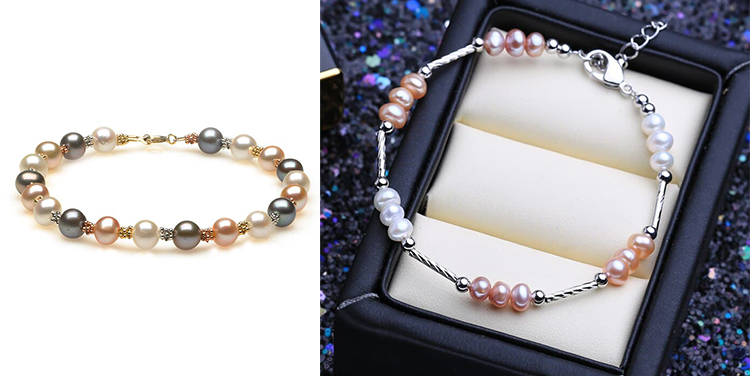 The beauty of pearl bracelets lies in the wide variety of colors you can choose to match your attire.
Different cultured pearls, such as freshwater or saltwater, South Sea pearls, Tahitian pearls, or Akoya pearls, are available in multiple colors, including cream, white, off-white, purple, pink, blue, champagne, chocolate, silver, gold, lavender, and many more.
Not only this, you get several overtones and undertones, making the selection tougher but joyful.
The grading
When it comes to the purity of the pearl bracelet, there is no one grading system accepted by the industry.
Although some use AAA or AAAA for checking the purity, one must take into consideration other factors and not these.
In addition, if durability and timelessness are what you value, always pick pearl bracelets with high-quality pearls.
These are the kinds you can pass on to the coming generations.
The luster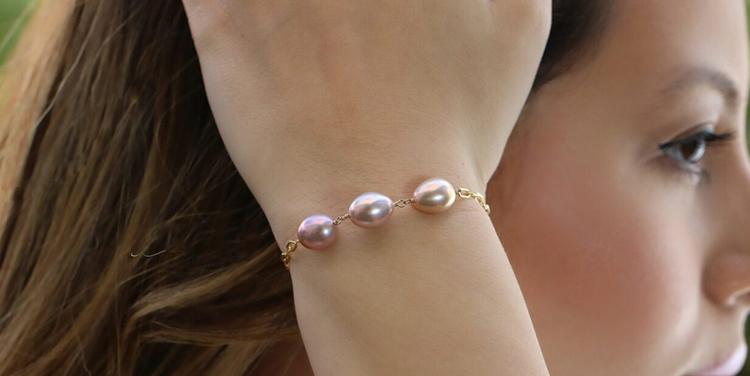 High-quality pearls exhibit high luster, meaning they have a mirror-like shiny surface and come at a higher price.
Those of poor quality look dull and opaque. Fake pearls, those made of glass and plastic, may also exhibit similar characteristics and are cost-efficient but may not be easily recognized by the naked eye.
Styling Pearl Bracelets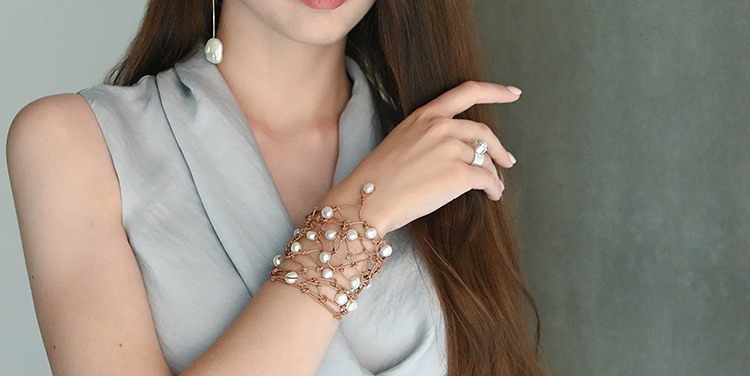 There are an array of styles and designs available in pearl bracelets.
●Whether you are young or old, pearl bracelets suit women of all age groups. You can either go for a simple and delicate bracelet or a more elaborate one with gemstones and other embellishments.
●For a casual look, pair a pearl bracelet with a T-shirt and jeans. You may pair another with a gown or a cocktail dress to achieve a formal look.
●Pairing pearl jewelry with other jewelry makes it stand out from the crowd. You can use a diamond necklace or jewelry made from other gemstones.
The Clasp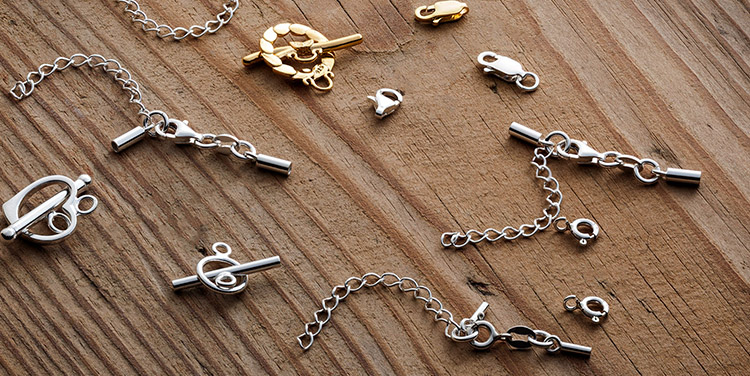 It would be best if you had a strong clasp to put all the pearls in a bracelet.
So, choose one that provides you with security and comfort and customize yours with the right clasp.
From easy-to-close and open lobster clasps to magnetic clasps for older women and arthritis patients, there is an array of bracelets available.
If you have a bigger bracelet, choose a clasp of a larger size and vice versa.
Just measure the width of the pearls and compare it with the width of the clasp size.
So, if your pearl bracelet has two strands, with each strand measuring 5 mm, pick a clasp of size 8-10 mm.
It is because if you select a clasp of a smaller size, the pearls won't fit properly, and if you go with a larger size, you may or may not like the design.
Size apart, the type of clasp can be the deciding element of your pearl bracelet.
Make sure the clasp design adds to the bracelet design and does not look awkward or compete with it.
Also, some clasps are better hidden. The fold-over clasps are most common; they are easy to open and close with one hand.
Some women like to wear their bracelets set in different materials.
Consider including metals or stones in your pearl bracelets.
While a simple pearl-only bracelet looks elegant, a pop of color with colorful gemstones or even diamonds can take your look a notch higher.
These promise to draw attention instantly towards your wrist.
A pearl jewelry manufacturer will happily assist you in personalizing your bracelet.
Parting Thoughts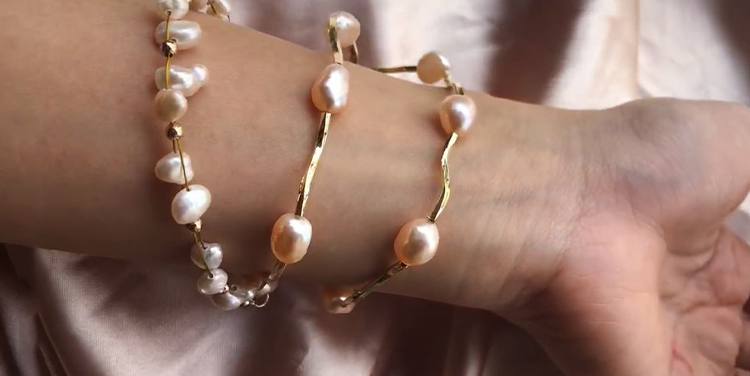 To sum up, pearl bracelets are an ideal accessory for women as they are timeless, versatile, elegant, feminine, and pocket-friendly.
One can style them with a variety of different outfits to suit different occasions.
Not only this, pearl bracelets are found to be useful in promoting relaxation and stress relief.
In a nutshell, whether you are looking for a piece of jewelry you can wear for many years to come or a versatile accessory you can dress up or down, pearl bracelets are just ideal.